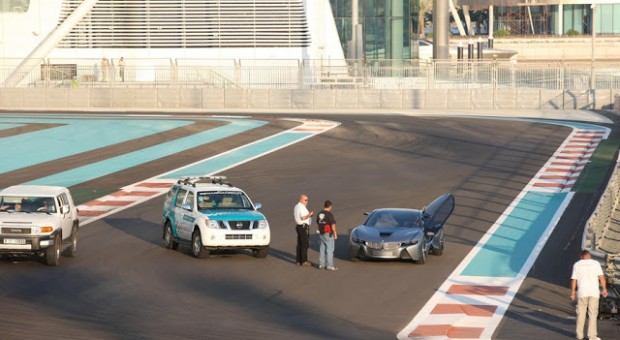 I8 BMW Vision EfficientDynamics – spy photos – BMW's future is promising
Some time ago I saw a spot on YouTube's presentation of a new BMW concept. Brilliant, attractive, futuristic. BMW presents a concept almost incredible that it is not thought feasible anytime soon.
During this time, BMW will bring forth its philosophy with such groundbreaking concepts such as the BMW MegaCity Vehicle and BMW i8. Which is the term for the production car of the Vision Efficient Dynamics concept car.
Below is the spot that I speak, you remember it (New BMW Vision EfficientDynamics Concept Car):
When we say BMW, everything is possible. Below you can admire the new BMW spy photos of I8 taken in Abu Dhabi. BMW car manufacturing company, has already registered designs and trademarks, i1, i2, … i9. Here is the list.
BMW will introduce I8 – spy photos:
Here is the Vision ED with a new coat of paint, this time in a beautiful gray finish that shimmers in natural sunlight, giving the car a more production ready look. Otherwise, true to their word, this car visually seems to be relatively unchanged from the original concept car.
You can see the car's driver wearing a crisp racing suit and you can see men on the side of the track with cameras in hand as well as a video rig. This means that this car is not out on the track for testing purposes, but rather for a photo shoot. Is this for more promotion of the vision ED concept car, or might this be an actual production version of the VED car (rumored to be named the i8), noone knows at this point.
BMW VisionED (i8) spied during photoshoot in Abu Dhabi.
What is known is that the car will have a revolutionary drivetrain featuring a 161-horsepower 1.5-liter 3-cylinder turbo diesel engine mated with a hybrid synchronous motor on the front axle (80HP) and full electric motor on the rear axle (51HP), to give a combined 292HP good for 0-60 in 4.7seconds.
Here you can see other spy photos.
(Visited 1 times, 1 visits today)