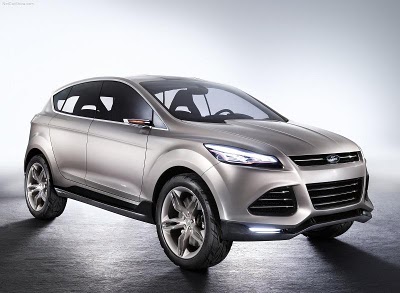 Ford Vertrek Named Best Concept at 2011 North American International Auto Show
The best car concept was made by Ford! Ford Vertrek was named best concept @ 2011 Detroit Auto Show! The Vertrek concept rose above such contenders as the Mini Paceman, GMC Sierra All Terrain HD and Toyota Prius C to win the coveted award.
"Ford has been so focused on serious stuff such as small cars and fine-tuning production models that it hasn##Q##t had a lot of time to craft concepts capable of turning heads at auto shows," said the editors of AutoWeek. "Enter the Vertrek. It blends European styling with the practical needs of Americans. The best part is that Ford design boss J Mays says this concept is very close to the look of the next Escape."
Based on the global C-segment platform, Vertrek represents the vision of Ford##Q##s top design and engineering talent on how best to attract and satisfy future SUV customers around the world. "Vertrek unites stylish design, world-class craftsmanship and outstanding capability to present a fresh vision that we believe will resonate globally," said Mays.
The Vertrek concept further evolves Ford##Q##s global kinetic design philosophy. The vehicle##Q##s rising beltline creates an athletic stance, while its dynamic lines and taut surfacing convey muscularity.
A highly efficient new 1.6-liter four-cylinder engine from the global Ford EcoBoost™ family is underhood, giving Vertrek the power of a larger-displacement powerplant while delivering significantly better fuel economy and CO2 emissions.
In Vertrek concept, this engine is mated to a new, fuel-saving Ford Auto Start-Stop technology. By 2013, 80 percent of Ford##Q##s global nameplates and 90 percent of Ford##Q##s North American nameplates will have an EcoBoost option.
The prestigious AutoWeek award comes hard on the heels of the all-new Ford Explorer being named 2011 North American Truck of the Year, the third year in a row Ford has taken this honor.
The Vertrek concept is on public display at NAIAS – along with Explorer and other award-winning Ford and Lincoln vehicles – in Detroit##Q##s Cobo Hall through Jan. 23.
Ford introduced the Vertek Concept at the 2011 Detroit Auto Show
Ford Vertrek is built on Ford##Q##s global C-segment platform, which will underpin more than 2 million vehicles globally by 2012.
Vertrek is Ford##Q##s vision for a utility vehicle that will appeal to customers around the globe, and signals the direction Ford will take in developing a stylish SUV with outstanding cargo space and a 1.6-liter EcoBoost™ engine that could deliver best-in-class fuel economy!