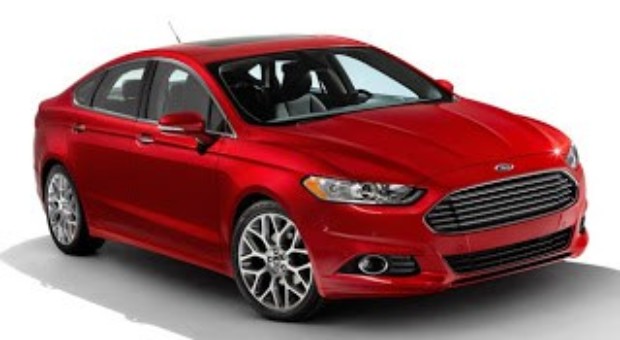 2013 New Ford Fusion
2013 Ford Fusion
Ford's all-new Fusion brings alive the next generation of more expressive vehicles from Ford and is the first sedan to offer gasoline, hybrid and plug-in hybrid versions – each expected to deliver top fuel economy and an engaging driving experience.
Fusion has been completely reimagined for 2013 with a bold new look, fuel-efficient powertrains, smart technology and the promise of a more dynamic driving experience that raises the bar in the midsize sedan segment.
From the 1.6-liter EcoBoost® four-cylinder with Automatic Start-Stop to the 100+ MPGe plug-in-hybrid Fusion Energi, the entire lineup is projected to provide class-leading fuel efficiency. The sleek body encloses occupants in a roomy, comfortable, driver-oriented cabin while smart technology keeps drivers informed and connected with the world around them.
• New Ford Fusion is the first sedan to offer gasoline, hybrid and plug-in hybrid powertrains, each with expected top fuel economy, underscoring Ford's commitment to give customers the power of choice
• With seven must-have technologies, including a Lane Keeping System, adaptive cruise control, active park assist and MyFord Touch®, the all-new Ford Fusion shows how Ford is delivering features customers truly want and value
• Customers can choose from Fusion's widest-ever portfolio of fuel-efficient powertrains including EcoBoost™, hybrid and plug-in hybrid engines; automatic and manual transmission offerings; and auto start stop technology
• Revealed in North America as the midsize Fusion sedan, this all-new car signals the next-generation Ford Mondeo for world markets
Featuring a sleek silhouette and fresh face, the all-new Fusion is the latest in a series of vehicles from Ford – following the 2011 Fiesta subcompact and 2012 Focus small cars – developed to satisfy customers everywhere who want leading fuel efficiency, helpful technologies and game-changing looks.
"Our vision for Fusion was clear – deliver the very best of what One Ford stands for," said Derrick Kuzak, group vice president of Global Product Development. "We brought our global teams together around a blank slate with the charge to develop a midsize car with groundbreaking design and jaw-dropping fuel economy – one that featured technologies to help make our customers safer and better drivers. This car is the result."
Fusion is revealed in North America in S, SE and range-topping Titanium series and points to the next Ford Mondeo for world markets.
The new Fusion is expected to deliver best-in-class fuel economy across customers' choice of gasoline, hybrid and plug-in hybrid sub-segments, following through with the commitment by Ford to be the fuel-efficiency leader – or among the leaders – with each new model brought to market.
Fusion brings the broadest selection of fuel-efficient powertrains in the midsize car segment. It offers hybrid and plug-in hybrid alternatives, a pair of EcoBoost™ four-cylinder engines, a normally aspirated four-cylinder engine, an automatic start stop system to shut off the engine at stationary idle, front-wheel drive and all-wheel drive applications, and a choice between automatic and manually shifted six-speed transmissions.
The 1.6-liter EcoBoost is expected to deliver best-in-class four-cylinder non-hybrid fuel efficiency of 26 mpg in the city and 37 mpg on the highway. The 2.0-liter EcoBoost engine – paired with a paddle-shifted six-speed SelectShift Automatic™ transmission, available 19-inch wheels and tires, and all-wheel drive with the ability to send additional torque to the rear – is the Fusion performance option.
The all-new Fusion offers the latest iteration of Ford's award-winning, industry-exclusive SYNC® communications and entertainment system, which enables voice-activated communication through a driver's mobile phone and interaction with the car's audio system.
Fusion also offers the latest version of MyFord Touch®, allowing a driver to interact with vehicle systems through voice control, a touch screen tap or a conventional button.
Both SYNC and MyFord Touch – powered by SYNC – help reduce the potential for driver distraction through voice-controlled functionality, allowing drivers to keep hands on the wheel and eyes on the road.
Fusion can help drivers maintain proper lane position, adjust vehicle speed to changing traffic conditions, identify suitable parking spaces and help park, even aiding drivers backing out of parking space where visibility is obstructed. Specific technologies include:
• Lane Keeping System: This class-exclusive technology consists of three elements to help a driver maintain proper lane position. Using a small, forward-facing camera behind the inside rearview mirror, the system "looks" down the road, monitoring lane lines to determine that the car is on course. The system will alert a driver if drowsiness or erratic lane-keeping is detected. The second element warns a driver with a steering wheel vibration if the Fusion drifts too close to lane markings. Finally, lane keeping aid will actually apply pressure on the steering to help bring the car back into proper lane position
• Adaptive cruise control: Using forward-looking radar, this system "looks" down the road when activated, slowing the Fusion when slower traffic is detected ahead. Adaptive cruise control enables collision warning with brake support to help slow the car if the potential of a crash is detected
• Active park assist: Employing sensors, this technology can identify a suitable parallel parking space, calculate the trajectory and steer the car to properly position it within the spot. All a driver need do is operate accelerator and brake pedals
• Blind Spot Information System (BLIS®) with cross-traffic alert: Sensors in both Fusion rear quarter-panels are able to detect traffic in a driver's blind spot, providing both audible and visual warnings if traffic – unseen by the driver – is detected. BLIS technology enables cross-traffic alert, warning the driver of oncoming traffic when backing out of a parking space with obstructed views, such as between two large vans
Fusion is revealed in North America in S, SE and range-topping Titanium series and points to the next Ford Mondeo for world markets. Ford Fusion is made in Chihuahua, Mexico and Bridgend, U.K. and also Valencia, Spain
Source: Ford
Related External Links
(Visited 2 times, 1 visits today)