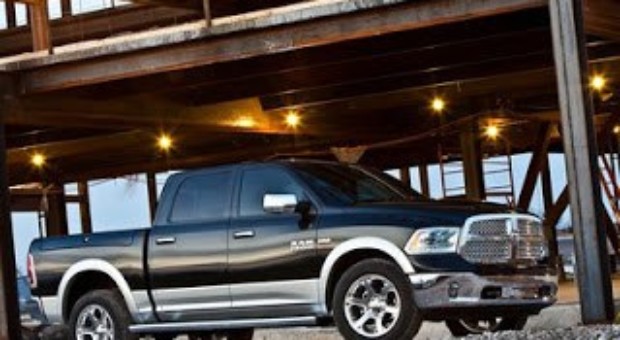 2013 New Dodge Ram specifications
2013 Ram 1500 Debuts with Next Generation Uconnect® System and New Customizable Vehicle Information Centre
The 2013 Ram 1500 offers a truckload of innovative, industry-leading technology, adding all-new features to an already world-class interior.
"Our Uconnect® systems have received accolades from the automotive and consumer electronics industry because they are easy to learn, easy to use, responsive and accurate," said Marios Zenios, Vice President, Uconnect Systems and Services — Chrysler Group LLC.
"Customers are provided with multiple ways to connect to portable devices, content and applications while remaining focused on the driving," added Zenios.
New, Smart Uconnect Media Centres
Building upon base radio capability, two new Uconnect Media Centres will be offered to provide Ram customers with a range of features and connectivity options to best suit their needs, they include:
The Uconnect Media Centre R3 features an 8.4-inch colour touchscreen and offers customers the flexibility to purchase navigation after the vehicle sale. The Media Centre also provides Ram customers with multiple ways to connect their truck; SiriusXMTM Satellite Radio; voice recognition technology to provide hands-free operation of mobile phones, music and a variety of ways to access digital music content including SD, USB and 3.5 mm auxiliary input in the media console, all standard.
The Uconnect Media Centre R4 features an 8.4-inch colour touchscreen with standard navigation and provides Ram customers with multiple ways to connect their truck; SiriusXMTM Satellite Radio; voice command technology to provide hands-free operation of mobile phones, music, texting and navigation; a variety of ways to access digital music content including SD, USB and 3.5mm auxiliary inputs as well as a remote USB port in the media console, all standard.
The responsive 8.4-inch touchscreen includes the award-winning user interface designed by Chrysler Group Human Machine Interface engineers, featuring large icons and visual cues allowing consumers intuitive control of system features.
Also enhancing driver convenience, Uconnect features one-step voice command of navigation, the ability to listen and respond to text messages, combined with familiar knobs for climate and comfort controls.
A Variety of Ways to Control Your Content
Uconnect controls are placed on the steering wheel. Customer research has shown a preference towards audio controls located at the rear of the steering wheel and Ram was the first truck manufacturer to integrate these rocker switches for ease of use. Audio system controls, including next station, radio preset and previous station or track, are located on the left. Volume up or down and change audio source are located on the right. This means Ram truck drivers can keep their hands on the wheel while they enjoy a variety of entertainment content sources.
Voice Command
The available Uconnect Voice Command is a voice-activated communication system that allows drivers to control their mobile phone, music and navigation system while staying focused on driving. When a compatible Bluetooth mobile phone is initially connected to the system, the phone book within the mobile phone is automatically downloaded, synchronizing as many as 1,000 phone book entries, which can then be selected by simply saying a contact name. The feature also allows drivers to switch radio modes, tune to AM, FM, and available SiriusXMTM Satellite Radio. The hands-free option promotes driver focus, freedom, value and flexibility.
SiriusXMTM Satellite Radio
SiriusXMTM Satellite Radio offers customers extensive channel lineup including commercial-free music, sports, comedy, Rock and Roll Hall of Fame Radio, ESPN's Sports Center, and Carlin's Corner, as well as a number of French language channels.
Sophisticated Navigation System
The Uconnect Media Centre R3 offers customers the flexibility to purchase navigation either at or after the vehicle sale. The Uconnect Media Centre R4 offers navigation standard including 3D imagery of landmarks, city models and digital terrain (available only in VP4 radios). Both Media Centres utilize the large, 8.4-inch screen to deliver directions, lane guidance and points of interest. Directions are given audibly and also appear in the Vehicle Information Centre – so information is available when the driver needs it. The updated system features enhanced graphics and a one-step voice entry system so Ram customers can easily say the address and navigate on the go.
Media Console Offers a Variety of Options
Neatly integrated within the upper storage tier of the center console, a new multimedia input includes USB, SD card and auxiliary connections. The USB allows control of iPod or other media device through the large touchscreen displays and steering-wheel-mounted audio controls. A more powerful 2.5 amp, USB port and 12-volt outlet also provide mobile recharging for electronic devices. In addition, MP3 and WMA audio files on a USB memory device may also be played and controlled via the Uconnect system.
New 7-inch Vehicle Information Centre
Filling the gauge cluster in front of the driver is an available 7-inch, colour, premium vehicle information screen, featuring a new customizable function that enables Ram 1500 customers to personalize information inside the instrument cluster. Similar to the premium Uconnect Systems, select 7-inch instrument cluster background screens are branded with a Ram Truck theme. Ram's new information display is designed to visually communicate information, using graphics and text, quickly and easily.
The vehicle information display offers drivers a wide range of customization options, from a basic digital speed read out to specific vehicle status information. Operation of the display is clearly communicated to users with easy-to-understand icons and instructions. Using buttons on the steering wheel, drivers can customize the screen with as much or as little information as they desire. The system is intuitive and can be arranged for a variety of views. Up to three analog vehicle status gauges can be added to the display. The main screens found inside the instrument cluster menu are: digital speed, vehicle information and fuel economy, trip A information, trip B information, trailer-tow information, audio, stored messages and screen customization. Additionally, the four corners of the display can be customized to show information at a glance, including current fuel economy, outside temperature, time and compass direction.
Once a main screen is chosen, it becomes the default setting, remembering the user's selection upon restarting the truck. Vehicle concerns are instantly reported to the driver via pop-up warning messages on the display. Text warning messages are automatically stored so a driver can review the message at their convenience.
2013 Ram 1500 Offers Best-in-class Fuel Economy With More Pioneering, Fuel-saving Systems Than Any Other Pickup
Although the new 2013 Ram 1500 boasts numerous segment-exclusive features, most are under the skin, yet certainly help the new truck stand out from the herd, delivering best-in-class fuel efficiency, ride and handling.
"For 2013, we looked at available technology and aligned systems with the goal of greatly improving fuel economy," said Fred Diaz, President and CEO, Ram Truck Brand and Chrysler de Mexico — Chrysler Group LLC. "The Ram 1500 continues to build on segment exclusives, providing everything customers expect in a modern truck, while delivering best-in-class fuel efficiency, more technology, innovation and features."
Aerodynamics
The new 2013 Ram 1500 retains its ruggedly handsome appearance with a new, bolder and more aggressive front end. Extensive wind-tunnel testing honed the 2013 Ram 1500 exterior shape, resulting in continued best-in-class aerodynamics. Also, the cooperative application of active aerodynamics and modern styling led to a 6 percent aerodynamic improvement on the new truck. The 2013 Ram 1500 Regular Cab 4×2 coefficient of drag (Cd) is 0.363 – compared with a Cd of 0.386 for a 2012 Ram 1500 Regular Cab 4×2.
Exterior
The front air dam of the 2013 Ram 1500 has been extended downward to create a 0.6 percent improvement in fuel economy. Engineers used a new thermo-plastic material, which is much more malleable, preventing breakage due to contact with curbs, rocks or other objects.
A new wheel-to-wheel tubular side-step design offers aerodynamic improvements over the current version by allowing air to pass around the truck more smoothly. The improvement adds 0.5 percent to fuel efficiency and allows customers easy access to the forward portion of the truck bed.
For 2013, select Ram 1500 models feature a segment exclusive, standard, lockable tri-fold tonneau cover. Serving a dual-purpose, the tonneau cover improves fuel economy by 0.8 percent and adds security and weather protection for bed storage. The unique design is flexible, giving owners the ability to utilize one, two or all three sections of the cover by folding the system on top of itself.
Active Grille Shutters
The new Ram 1500 is the first truck to employ an active grille shutter system, which automatically closes the airflow through the huge grille when cooling is least needed. The system improves fuel economy by 0.5 percent by reducing drag roughly 3 to 5 percent and improves warm-up time/defrost time.
When the active grille shutters are closed, airflow is redirected over and around the front of the truck, enhancing aerodynamic performance rather than creating turbulence in the engine compartment. Engine coolant temperature and vehicle speed determine shutter position. The shutters remain closed when less engine cooling is required and aerodynamic drag is most significant; the system will open the shutters when the truck's cooling demands require additional airflow, for example traveling up a hill or pulling a trailer in high-temperature environments.
Air Suspension
Best-in-class ride and handling get even better. The 2013 Ram 1500 is now available with an all-new air suspension system for optimum ride and aerodynamic performance. Another benefit to the new air suspension is the load-leveling capability, which automatically detects load on the suspension from a trailer or payload. The air pressure increases until the vehicle reaches normal ride height, leveling the truck and improving the loaded ride.
2013 Ram 1500 Features Best-in-class Fuel Economy, Pentastar V-6 and Segment Exclusive Eight-speed Transmissions
Major changes under the hood of the new 2013 Ram 1500 will help deliver best-in-class fuel economy and substantial increases in power and performance with the Chrysler Group's award-winning Pentastar 3.6-liter V-6 engine coupled with the first use of an eight-speed TorqueFlite 8 transmission in a pickup truck.
The 5.7-liter HEMI® also will benefit with the first use of an eight-speed automatic transmission. The new, TorqueFlite 8 is available with the V-8 engine and features a higher capacity torque converter and is scheduled for availability in late 2012.
Coupled with the debut of an eight-speed transmission, select Ram 1500 models will offer a new stop-start feature that automatically shuts the engine off when the truck comes to a complete stop, conserving fuel. The engine restarts when driving is resumed.
"The coupling of our legendary 5.7-liter HEMI V-8 and Ward's 10-best, 3.6-liter Pentastar V-6 to a new eight-speed automatic transmission led the way to best-in-class fuel economy for the 2013 Ram 1500," said Bob Lee, Vice President, Powertrain and Electrified Propulsion Systems Engineering — Chrysler Group LLC. "Although the addition of a new eight-speed achieved double-digit percentage gains in fuel economy, we also added a number of segment exclusive technologies such as thermal management, stop-start and active grille shutters to further improve efficiency."
Best-in-class V-6 Fuel Economy – Pentastar V-6 Engine
With best-in-class standard horsepower rated at 305 at 6,400 rpm and torque of 269 lb.-ft. at 4,175 rpm, the 2013 Ram 1500 goes from zero to 60mph, three seconds faster than the previous V-6 powertrain. The new Ram 1500 becomes the latest vehicle to benefit from the advanced technology Pentastar engine. Features include Dual Overhead Camshafts (DOHC), high-torque over a broad rpm range, low exhaust emissions, E85 capability, exceptional fuel economy, and best-in-class noise, vibration and harshness (NVH).
Introduced less than two years ago, the new V-6 engine has become the workhorse engine across the Chrysler lineup and has replaced seven previous V-6 engines. The Pentastar won Ward's 10 Best Engines award in its debut year of 2011 and repeated this honor in 2012.
The compact, 60 degree, all-aluminum block is constructed of high strength die-cast T380 aluminum with cast iron bore liners. Six bolt main bearing caps contribute to an extremely rigid lower engine structure. Cast aluminum pistons are fitted to forged connecting rods. Aluminum cylinder heads with dual overhead camshafts and four valves per cylinder include integral exhaust manifolds. High flow, tumble intake ports and a 10.2:1 compression ratio deliver an optimal balance of power, fuel efficiency and refinement.
Despite the high compression ratio, the Pentastar V-6 is designed to run on regular 87 octane fuel to reduce the cost of ownership. The 3.6-liter Pentastar also is E85 compliant across all 50 states.
To help deliver better fuel efficiency and better volumetric efficiency across a wide torque band, the engine also includes variable-valve timing (VVT) with dual-independent cam phasing. Nearly 90 percent of the engine's peak torque is available from 1,800 to 6,400 rpm – an important consideration when towing or hauling a load.
With increases in both horsepower and torque, there is no shortage of capability. For 2013, customers can opt for a V-6 engine with a 4×4 powertrain and in crew cab models.
Best-in-class V-8 Fuel Economy – 5.7-liter HEMI® V-8
Long associated with power, enhanced fuel efficiency also is provided with the legendary HEMI® through the use of variable-valve timing (VVT) and cylinder shut-off technology. The 2013 Ram 1500 is the first vehicle to combine the new eight-speed automatic and the HEMI V-8 engine (late availability).
With 395 horsepower at 5,600 rpm and 407 lb.-ft. of torque at 3,950 rpm, the 5.7-liter HEMI V-8 delivers performance and best-in-class towing and payload — 11,500 pounds and 3,125 pounds, respectively with the Ram 1500 Tradesman Heavy Duty. Equipped with VVT, the engine is designed to deliver power across a wide torque band.
Fuel enhancing features with the HEMI include cylinder shut-off technology, which deactivates four cylinders of the engine during light acceleration or cruising situations on the highway when full V-8 power is not needed. Depending on the driving, cylinder shutoff can increase fuel economy from 5 to 20 percent. Transparent to the driver, the system operates between 1,000 and 3,000 rpm and provides V-8 power for acceleration and heavy loads and four-cylinder operation when the torque requirement is less than the maximum available from four cylinders, saving fuel.
Additionally, VVT technology improves fuel economy by first, reducing the engine's pumping work by closing the intake valve later, and second by increasing the expansion process of the combustion event. This allows more energy to be transferred to the wheels instead of being lost out of the exhaust as heat. VVT also improves engine breathing, which improves engine efficiency and power.
New photos:
No major changes in their appearance (though they exist), the RAM 1500 receives significant improvements in other sections that make it more attractive and efficient, the latter very important now that gasoline prices already quite high.
Among other things, the RAM1500 opens a new eight-speed automatic transmission (for both the V6 and for the V8), Stop & Start system and improved aerodynamics, all to reduce consumption and emissions. It also adds a power-assisted steering and self-leveling air suspension.
This, together with certain alterations made ​​in the engines have reduced consumption by 20%, a figure more than important. Besides all this, the interior gets a more elaborate and attractive dashboard with superior quality materials and some new equipment like the new browser screen of 8.4 inches.
(Visited 1 times, 1 visits today)