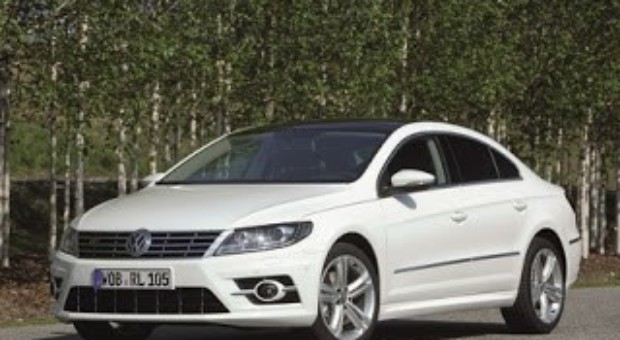 2013 Volkswagen CC R-Line is amazing
2013 Volkswagen CC R-Line
When the Volkswagen CC made its debut four years ago, it was the first four-door coupé in the 30,000 to 40,000 euro class.
From this niche, a new segment quickly developed — to date, nearly 270,000 people around the globe have chosen the sedan with the stylish lines of a sports car.
They are car drivers who love the charm of a coupé but also value space for at least 4 persons and 4 doors.
Now, Volkswagen is presenting a technically and visually updated version of the popular business vehicle.
Volkswagen is set to reveal an R-Line version of the newly-redesigned 2013 CC June 1. "With interior and exterior enhancements, the R-Line upgrades make the CC an even sportier vehicle," the automaker says in a press release. The 2013 CC R-Line will be available by the end of 2012.
Under the hood, the CC R-Line has the same drivetrain as the base CC Sport, which features a 200-horsepower 2.0-liter turbocharged four-cylinder engine and either a six-speed manual or six-speed dual-clutch automatic transmission.
With new front and rear styling, the new perfected Volkswagen CC makes an even bolder move towards the automotive luxury class.
Its extended range of standard features has become more exclusive as well; they now include new bi-xenon headlights, static cornering lights and a new LED tail light design. Also standard: fatigue detection, RCD 310 radio-CD system, stainless steel door sill plates and safety head restraints with additional longitudinal adjustment (front seats).
New assistance systems are making their way into the CC as well.
They include optional technologies such as Side Assist Plus with integrated Lane Assist (warns of vehicles in blind spots and assists driver in avoiding an accident by steering intervention), Dynamic Light Assist (automatic main beam control) that is new in the Volkswagen CC and a camera- based traffic sign detection system. Meanwhile, comfort is optimised by the ##Q##climate seat##Q## with integrated massage function.
The Volkswagen CC will be powered by innovative petrol and diesel direct-injection engines; all of the diesels (TDI) are equipped with a Stop/Start system and battery regeneration mode (for recovering braking energy) as standard.
All petrol engines also have battery regeneration functionality. The TDI engines output 103 kW / 140 PS and 125 kW / 170 PS. The petrol engines of the European CC versions develop a sporty 118 kW / 160 PS, 155 kW / 210 PS and 220 kW / 300 PS of power.
In the USA, the Volkswagen will once again launch with petrol engines that output 147 kW / 200 PS (TSI) and 206 kW / 280 PS (FSI). All engines go to work with excellent efficiency. A prime example is the 140 PS TDI. Together with a manual six-speed gearbox, its combined fuel consumption is just 4.7 l/100 km (equivalent to 125 g/km CO 2).
In addition to unique exterior styling, the 2013 CC R-Line will offer standard rain-sensing windshield wipers, automatic climate control, heated power-adjustable front seats and an eight-speaker touch-screen stereo with HD Radio, a six-disc CD changer and Bluetooth and iPod connections.
The 2013 Volkswagen CC competes against upscale midsize cars like the 2012 Buick Regal, Mercedes-Benz C-Class and Audi A4. "This will be the fourth trim level in the CC lineup, in addition to the Sport, Lux and Executive versions," says Edmunds.
Pricing for the CC R-Line has yet to be announced, but the base 2013 Volkswagen CC Sport is on sale now with a starting price of $30,250 plus an $820 destination fee.
The new Volkswagen CC will be revealed to the public in a world premiere at the Los Angeles Auto Show (November 18 to 27).
The market launch phase begins shortly thereafter. Volkswagen will first offer the new CC in Germany in February 2012, then in stages across Europe, America, Russia, China (local version starting in 2013) and all other sales regions relevant to this vehicle class.
The facelifted Passat CC will be launched in Germany in February and should see production in the US as well.
(Visited 1 times, 1 visits today)