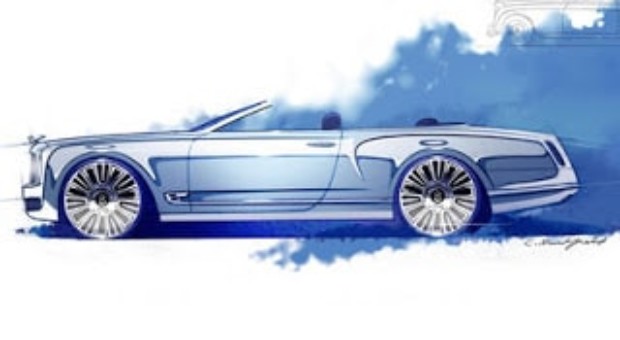 Bentley Mulsanne Convertible Concept
Bentley previews its Mulsanne Convertible Concept, a 505bhp, twin-turbo V8 rival to the Rolls-Royce Phantom Drophead
Bentley used the 2012 Pebble Beach Concours d'Elegance to preview its new Mulsanne Convertible Concept. As the pictures – and it's fairly self-explanatory name – no doubt tell you, it's a drop-top version of the mighty Mulsanne saloon, and a modern day interpretation of the Bentley Azure cabrio, whose name it might yet carry on.
There are no firm technical details yet – just talk of how the wood and leather-lined interior is inspired by luxurious power boats – but it's a safe bet that the Mulsanne Convertible will use the same 6.75-litre twin-turbo V8 engine as its four-door base car.
Its 505bhp and frankly silly 752lb ft of torque are good for 0-60mph in 5.1sec and a 184mph top speed in the standard Mulsanne, despite its 2.5-ton kerb weight.
The sketches of the Convertible suggest it will use a large folding soft top, and boast four seats.
Its dimensions are likely to remain very close to the standard Mulsanne's, making it around 5.5 metres long and 2m wide, with a 3.2m wheelbase. Those figures make it almost identical in size to the Rolls-Royce Phantom Drophead Coupe, which the production Mulsanne Convertible will be a direct rival to. It's likely to possess a similar, £250,000-plus price tag too.
Most Bentley Azures were sold in North America, which probably explains the initial reveal of its Mulsanne successor at Pebble Beach. Bentley hasn't yet revealed when we'll see it in the metal, but September's Paris motor show might be a good bet.
(Visited 11 times, 1 visits today)