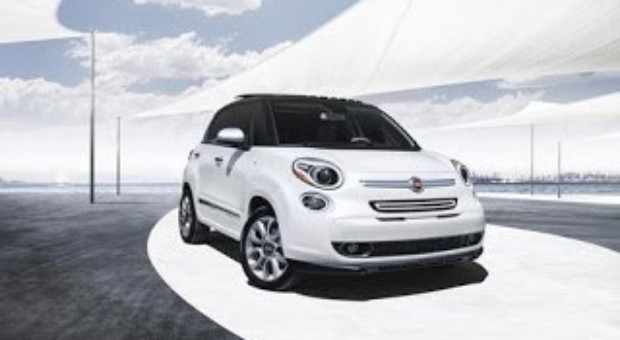 2014 All-new Fiat 500L (World Premiere)
World Premiere of All-new Fiat 500L Trekking and North American Debut of All-new FIAT 500L Expand the FIAT Brand's Product Lineup and its Commitment to Innovative Cars
2014 Fiat 500L Lounge
Expanding on the style, efficiency and driving enjoyment that has made the Fiat 500 an icon for more than 55 years, the all-new 2014 Fiat 500L expands the Cinquecento's appeal by offering more than 42 percent more interior space with spacious seating for five, engaging driving dynamics, a 1.4-liter MultiAir Turbo engine with a best-in-class 160 horsepower and two six-speed transmission offerings all wrapped in contemporary Italian design.
"The all-new Fiat 500L the reach of the FIAT brand in North America and will keep our customers within the brand as their lifestyle needs expand," said Tim Kuniskis, Head of FIAT Brand North America — Chrysler Group LLC. "Those who love the style and performance that only the Italians can create, can now enjoy space for five, functionality, practicality and value. The Fiat 500L is the whole package, and it now brings its unique flavor to the American market."
Since the modern Fiat 500's global launch in 2007, more than 1 million of these efficient and city-friendly vehicles have been sold in 110 countries worldwide. And now with the all-new Fiat 500L, the Cinquecento has grown up to accommodate even more of life's greatest experiences and emotions all together: children, friends, journeys, music and community.
The Fiat 500L delivers a new approach to the way a car expresses styling individuality, the way it communicates with the outside world and opens its doors to a new on-board experience. The letter 'L' sums up the six dimensions of the Fiat 500L: "Leveraging," the FIAT brand's approach to its iconic Cinquecento design DNA; "Large," meant as functionality and space via its new "small-wide" vehicle architecture; "Loft," a trendsetting environment where one can live life to the fullest behind segment-exclusive panoramic views and the segment's largest dual-pane sunroof (20.7 sq.ft. (1.92 m2) dual-pane glass system); "Lifestyle," four unique models including the all-new Fiat 500L Trekking that perfectly blends rugged styling and versatility for a Cinquecento that complements customers with a highly active lifestyle; and "Light," when 'lightness' means human- and eco-friendly technology.
Paired with its tight European handling and quick steering, the sixth dimension, "Liters" defines the fuel-efficient MultiAir Turbo engine in the all-new Fiat 500L, providing the highest output-per-liter and best-in-class standard horsepower (160 hp) and torque (184 lb.-ft.) in the segment. For even more driver precision and control, the Fiat 500L features a six-speed manual transmission, or segment-exclusive six-speed dual dry clutch transmission (DDCT).
All-new Fiat 500L Trekking: the adventurous side of the 500L
The premiere of the 2014 Fiat 500L Trekking expands the appeal and practicality of the Fiat 500L with distinct, rugged looks; an athletic two-tone interior environment; unique front and rear fascia designs, flared wheel arches and larger 17-inch wheels to support its adventurous personality.
"From Gucci to Abarth, our Fiat 500 and now all-new Fiat 500L illustrate the different personalities and capabilities the FIAT brand can deliver from the same basic sheet metal," said Tim Kuniskis. "And with the rugged personality of the Trekking, we will attract a wider cross section of customers while keeping intact all the great benefits of the Fiat 500L."
Making the all-new 2014 Fiat 500L Trekking distinct is the addition of aggressively styled front and rear fascias with Nero (black) accents for a bolder look. Unique Nero wheel arch and body-side sill moldings give the Fiat 500L Trekking a more adventurous look, while larger 17 x 7-inch aluminum wheels hint at the urban-utility vehicle's handling capabilities.
A unique two-tone Nero/Marrone (black/brown) interior environment continues the Fiat 500L Trekking's rugged-athletic theme. At the center of it all, an all-new Uconnect 5.0 system features a 5-inch intelligently and intuitively designed touchscreen interface, handsfree calling and Bluetooth-streaming audio, as well as voice-command control of the radio and a media hub for seamless integration of portable devices. For even more capability, the Fiat 500L Trekking can be had with the premium Uconnect 6.5 system with its larger 6.5-inch touchscreen radio, with dealer-activated navigation with intuitive map graphics and a premium media hub with SD card reader.
The all-new 2014 Fiat 500L and all-new Fiat 500L Trekking models are produced at FIAT Automobiles' manufacturing plant in Kragujevac, Serbia, and will arrive to FIAT Studios in North America in mid-2013.
2014 Fiat 500L – Safety
At FIAT brand, safety has always been a priority, and this objective has enabled the all-new 2014 Fiat 500L to integrate advanced safety technology that affords the level of driving confidence today's thoughtful consumer demands. Seven standard air bags and reactive head restraints
The all-new 2014 Fiat 500L features an all-new air bag system to offer unique protection for its passengers to meet all U.S. regulatory requirements. Its seven standard air bags include: driver and front-passenger advanced multistage air bags, driver's knee air bag, full-length side-curtain air bags and standard seat-mounted side pelvic-thorax air bags, all to offer enhanced occupant protection in the event of a collision.
Reactive head restraints, which activate during a rear impact, are another innovation helping minimize injuries by reducing the gap between the head restraint and the passenger's head.
Electronic stability control (ESC)
The Fiat 500L features standard electronic stability control (ESC) for improved braking performance in wet or panic conditions.
Behind the scenes, the ESC system is ready to intervene by integrating key chassis control systems, including electronic brake-force distribution (EBD), anti-lock brake system (ABS) and traction control systems (TCS) to control all four wheels in response to yaw and steering input.
In effect, ESC determines the driver's intentions and adjusts the vehicle's dynamic forces to maintain the driver's intended course. Should the driver exceed the performance limits of the road surface — such that the vehicle starts to oversteer or understeer — ESC instantly analyzes input from the wheel sensors and corrects the pending loss of control by applying any one, several or all of the system's brakes.
ParkView rear backup camera
Providing a wide-angle view of the area immediately behind the vehicle through the Fiat 500L's all-new Uconnect 5.0 or 6.5 radio, ParkView gives the driver greater peace of mind before backing up. The image is automatically displayed on the touchscreen when the transmission is shifted into Reverse and provides gridlines to help the driver gauge distances.
2014 FIAT 500L: Technology
All-new Uconnect 5.0 and 6.5
The all-new FIAT 500L uniquely showcases Uconnect's distinctive handling of in-vehicle handsfree communication, entertainment and navigation.
The all-new Uconnect 5.0 system features a 5-inch touchscreen that enables handsfree calling via Bluetooth-equipped phones, as well as voice-command control of AM/FM and optional SiriusXM Radio. Compatible smartphones equipped with Bluetooth and Message Access Profile (MAP) can receive text messages. The system announces receipt of the message, identifies the sender and then "reads" the message aloud.
In addition, digital music can be streamed wirelessly from compatible Bluetooth smartphones or audio players supported by a media hub equipped with auxiliary jack and USB that enables recharging and seamless operation of portable devices. An integrated CD player offers additional media flexibility.
Upping the ante is the available Uconnect 6.5 model with a 6.5-inch touchscreen display, voice operation of AM/FM and standard satellite radio, mobile phones and dealer-activated navigation with intuitive map graphics. Additional features include handsfree calling and audio streaming via compatible Bluetooth-enabled phones, text-message reader, personalization settings and a premium media hub with SD card reader. Both Uconnect 5.0 and 6.5 systems are available with optional Parkview rear backup camera.
eco:Drive app helps improve driving efficiency
The all-new 2014 500L offers FIAT brand's state-of-the-art eco:Drive app, demonstrating that an automaker's environmental responsibility should extend beyond the production line and into the actual way customers drive their cars.
Included on Uconnect 5.0, eco:Drive app collects all necessary data relating to vehicle efficiency and transmits it to the 5-inch touchscreen so drivers can view the information real time. The information also can be transmitted through the USB port to any USB memory stick. Plug the stick into a personal computer and the app details vehicle performance, such as per trip CO2 emission levels. In addition, eco:Drive analyzes the driver's style and provides recommendations on how to modify his or her driving style to help reduce fuel consumption and CO2 emissions.
Originated in Europe, today there are more than 80,000 eco:Drive users worldwide. The eco:Drive app has encouraged drivers to set challenges – CO2 reduction targets for specific journeys or over a set period of time. And as part of a global "eco:Ville" community, the system encourages all drivers to come together and pool their fuel and emissions savings to illustrate how individual contributions help the greater good.
Following the launch of the Beats by Dr. Dre audio system in the 2013 Fiat 500, the all-new 2014 Fiat 500L also offers its passengers a music experience the way the artist intended. The Beats Audio studio-quality sound system includes six premium speakers, an 8-inch dual-voice coil (DVC) subwoofer with trunk-mounted enclosure and 8-channel amplifier with Beats Audio digital sound processing (DSP) algorithm.
2014 Fiat 500L – Design
With its recognizable Cinquecento exterior design features, the all-new 2014 Fiat 500L provides even more space, utility and comfort, while offering a natural and coherent product extension in FIAT Studios.
With recognizable Fiat 500 physiognomy — its signature "whiskers and logo" face — plus an additional 6.1 inches (15.5 cm) in width, the all-new Fiat 500L has even more presence while exuding the FIAT family resemblance in stylistic harmony. Larger bi-halogen projector headlamps and lower park lamps tie in the iconic look, while the vehicle's front fascia, body-color fascia insert and cooling duct continue the FIAT brand's facial feature resemblance. Providing fresh air for the 1.4-liter MultiAir Turbo engine's intercooler, the Fiat 500L's front fascia grille features a honeycomb lower grille texture with available road-brightening fog lamps.
Because Fiat 500 models have always focused on maximizing the scenic views each journey provides, the all-new Fiat 500L goes one step further to deliver panoramic views from within. Illustrating purposeful Italian design, the Fiat 500L features segment-exclusive glass A- and D-pillars for an interior environment nearly encapsulated by 360 degree views. For a sporty appearance, the belt- and window-molding surrounds are trimmed in Nero (black). In addition to a monotone look, the new five-passenger Cinquecento offers even more style, with its "floating" roof painted in Nero or Bianco (white). The Fiat 500L also offers the segment's largest sunroof, providing first and second-row passengers with cityscape views through a 20.7 sq.ft. (1.92 m2) dual-pane glass system.
The 2014 Fiat 500L's silhouette is 26.9 inches (68.3 cm) longer yet features the familiar forward-sloping A-line and adds a cab-forward approach for improved visibility and an even more dynamic look. Similar to the historic and modern Cinquecento, the Fiat 500L's body-side lateral section features clean surfaces, flared wheel arches and chromed door handles. For added style and protection, body-side door moldings are painted in body color and are available with chrome accents. Filling the wheel wells are seven unique wheel designs ranging from 16 inches to a sporty 17 inches with the 500 logo on the center caps. For familiar Cinquecento character, the chromed-accented headlamps with "500" logo and taillamps are visible from the side profile, thanks to the way the Fiat 500L's rounded sides link up to the front and rear.
Maintaining its city-friendly proportions, the all-new Fiat 500L's rear fascia and bumper are well-integrated into the design of the five-door for shorter overhangs and a tidy look. Providing easier cargo loading, the Fiat 500L's liftgate design features one of the segment's lowest cargo-lift heights (26.2 inches (66.5 cm) from ground). For simplistic design character, the lower-liftgate area is recessed to accommodate a license plate, while the adjacent fascia integrates left and right side reflectors. Finishing off the rear are square-in-circular taillamps and a prominent FIAT liftgate badge with "500L" logo beneath.
Loft: style, comfort and panoramic views
Like a loft that provides a contemporary, wide, open and luminous dimension, the interior of the all-new Fiat 500L offers 42 percent more interior space than the 500 hatchback for added capability, plus even more style and comfort for up to five passengers and their belongings.
Like the FIAT 500, the Fiat 500L embraces a particular stylistic and constructive interpretation that strives for simplified enjoyment. Careful analysis of the interior space affords the all-new five-passenger model with an airy and roomy passenger compartment designed to be comfortable and enjoyable for any destination.
With segment-exclusive glass A- and D-pillars for nearly 360 degree views, the Fiat 500L provides the most outward visibility in its class. To maximize passenger visibility, the Fiat 500L features elevated second-row seats and an available dual-glass panel sunroof.
Like a well-designed loft, the focal point of the Fiat 500L is its instrument panel, which continues the Cinquecento's perfect blend of modern simplicity, iconic Italian styling and numerous personalization options. Expanding on the Fiat 500, the Fiat 500L's upper instrument panel is designed to convey a sense of refinement, elegance and fun with the availability of color-matched exterior accents and premium vinyl-wrapped or painted accents. A thick-rimmed three-spoke FIAT steering wheel is available in leather and two-tone color options and features the square-in-circular design cue. Behind, two large analog gauges provide vehicle and engine speed, while two secondary gauges provide fuel and engine temperature information.
The instrument cluster also includes an Electronic Vehicle Information Center (EVIC) to provide the driver with trip, vehicle and Uconnect system information. At the center, the Fiat 500L is available with the all-new Uconnect 5.0 or 6.5 radio system, providing passengers with information and connectivity options on a 5-inch or larger 6.5-inch touchscreen. On the passenger side, a recessed instrument panel cubby and covered glove box provide quick storage access. Designed to be ergonomic, the Fiat 500L's climate control and transmission shifter are easy to reach from the available center armrest. The lower instrument panel and center console highlight the Fiat 500L's space utilization with large- and small-sized storage spaces to keep mobile devices at a convenient reach.
Continuing the family resemblance, the 2014 Fiat 500L is available with seven fabric and two leather interior choices, paired with 64 internal/external design combinations across its models range. The Fiat 500L model lineup is inspired by four distinct spirits: young, dynamic and cool for the Fiat 500L Pop model; comfortable, practical and bright for the Fiat 500L Easy model; rugged and athletic for the Fiat 500L Trekking model; and elegant, sophisticated and contemporary for the Fiat 500L Lounge model.
Ensuring passengers are surrounded by premium materials that deliver a sensorial experience, Centro Stile's Color & Material Group specifically carried out studies to define which materials and colors the Fiat 500L product range would include. The group's research redefined technologies and production processes to further increase the quality level and value of the physical, tactile and visual properties of the materials, details and finishes to be applied.
All-new Fiat 500L Trekking: blending rugged style with utility
Designed for customers with a highly active lifestyle, the Fiat 500L Trekking model offers the perfect blend of rugged styling and versatility to match their needs. For a more aggressive look, a restyled front fascia features a bolder Nero-accented design graphic with large lower opening, fog lamps and adjacent "nostril" type air openings at the corners.
Above, the cooling duct has been enlarged for a more aggressive appearance, while the familiar "whiskers" and unique lower front fascia accent are finished in satin silver. Connecting the front and rear fascias are Nero wheel-arch and body-side sill moldings that provide this Fiat 500L with a more distinct look. The rear fascia continues the bold Nero design graphic plus the addition of a satin silver lower fascia accent for added style. Emphasizing the width of this Cinquecento, the horizontal recessed license plate area and rear fascia's lower left and right side reflectors are finished in Nero.
Inside, the Fiat 500L Trekking features a unique two-tone Nero/Marrone (black/brown) interior environment that is carried through on its leather-wrapped steering wheel, door and door-panel armrest bolsters, seat fabric and floor mats.
Source: Fiat & Chrysler Group
(Visited 9 times, 1 visits today)