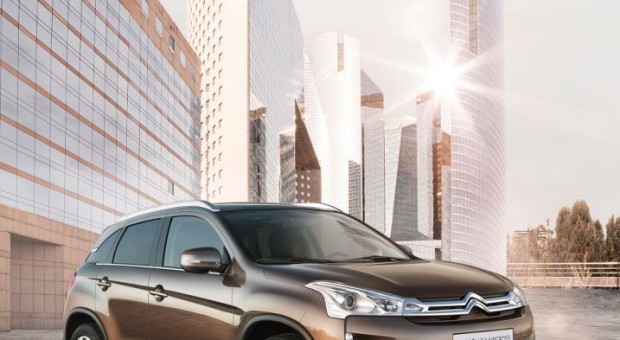 This new model from Citroen reviews the conventional cues of compact SUV design, combining style and tech innovation in a car that allies the grip of an off roader with the drive ability of a saloon.
A distinctive style that embodies Citroën##Q##s value
The front end of the Citroën C4 Aircross features aerodynamic vents fitted with LEDs for an original light signature that is visible by day and at night. The extra-wide wheel arches and reduced overhang enhance the impression of robustness. The shape of the large 18-inch wheels and the rear lights, derived from the Hypnos concept car, has been reworked for optimal air flow and reduced CO2 emissions. The Citroën C4 Aircross is also fitted with repeater lights in the door mirrors, light guides in the rear lights and a rearview camera built into the chrome trim on the tailgate.
With its latest-generation four-wheel transmission system, the Citroën C4 Aircross boasts perfect roadholding under all conditions. This technology allows the car to be driven permanently in four-wheel drive mode, while the torque is optimally distributed between the front and rear wheels. Drivers can manually select one of the three transmission modes to meet their needs and their wishes: 2-wheel drive, 4-wheel drive or lock mode for maximum grip under severe conditions.
Standard-setting CO2 emissions – The Citroën C4 Aircross fulfils the brand##Q##s commitments to environmental protection with its HDi 110 engine, mated to a 6-speed manual gearbox, making this model one of the front-runners in its segment in terms of CO2 emissions. It also benefits from the performance of the HDi 150 diesel and the 115 hp 1.6i petrol engine.
With its compact dimensions (4.34m long, 1.80m wide, 1.63 m high), the outstandingly manoeuvrable (10.6m turning circle), the Citroën C4 Aircross is at home in towns and cities. The comfort of this 5-seater is worthy of a saloon in the next segment up, while the 442-l boot comfortably meets the demands of modern life.
Take to the road with complete peace of mind. The raised driver##Q##s seat and large panoramic glass roof make for a more comfortable drive and a more pleasant ride. The Citroën C4 Aircross is also crammed with equipment, from the hands-free access and starter, to the GPS navigation system with its touch-sensitive screen, rearview camera, transmission mode selector, USB port and Bluetooth connection for portable audio players.
Related External Links
(Visited 13 times, 1 visits today)