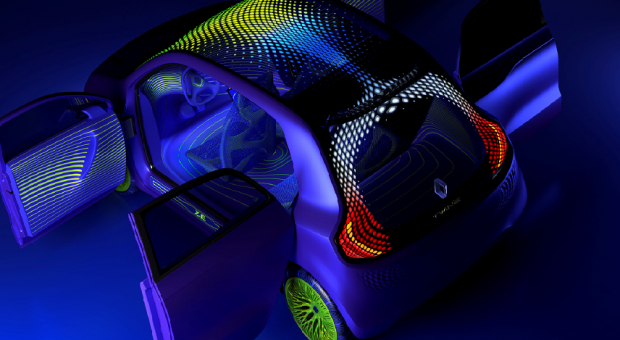 Renault and British designer Ross Lovegrove today took the wraps off Twin'Z.
This concept car is the fruit of their close collaboration and brings together two worlds where Design plays an important role : the world of furniture and that of the automobile.
As the 'Play' petal of Renault Design's life-cycle 'flower', Twin'Z is the latest concept car in the programme which sets out to illustrate Renault's new design strategy through parallels with threshold phases of human existence.
Twin'Z is a fun, modern, artistic take on the citycar which plays on emotions and excites the senses. It draws its inspiration from the heritage of some of the brand's most emblematic models, such as the Renault 5 and Renault Twingo. The Twin'Z is an all-electric car with rear-wheel drive and a rear-mounted motor.
Ross Lovegrove's personal vision of the automobile takes its inspiration from the world of nature, and the result combines an unprecedented play on light and organic forms to make Z28RL an endearing, almost living object.
Twin'Z underpins Renault's creative legitimacy which is founded on an entirely fresh approach, one fruit of which is this fun and modern city-car concept car.
It takes its inspiration as much from the heritage of the first-generation Twingo as it does from that of the Renault 5, two superminis which broke new ground in ways that truly marked their time.
Twin'Z takes us into a new dimension thanks to its dematerialised interior which combines simplicity with refined details and technology, backed up by the sophistication of its digital systems.
Here are the car specifications:
Length: 3,627mm
Width: 1,705mm
Height: 1,506mm
Wheelbase: 2495mm
Weight: 980kg
Top speed: 130kph
Range: 160km
Rear-mounted 50kW (68hp) synchronous electric motor with rotor coil
Maximum torque: 226Nm
Four lithium-ion battery packs spaced evenly beneath the floor
Voltage: 96V
Drive: rear-wheel drive
Transmission: direct drive with reducer gear and forward/reverse invertor
Specific Michelin tyres: 205/40 R18
Ross Lovegrove-designed 18-inch aluminium alloy wheels
Front suspension: MacPherson-type arrangement
Rear suspension: double wishbones
Adjustable Ohlins dampers
Chassis: tubular frame
Carbon fibre bodywork
Renault TWIN'Z All-new Concept car – Source: Renault
(Visited 14 times, 1 visits today)