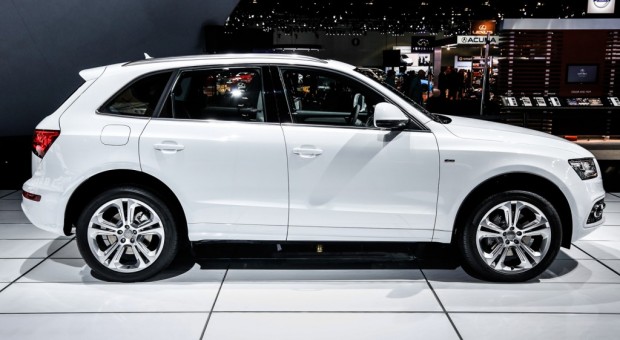 About All-new Audi Q5 and Q5 hybrid quattro
The Audi Q5 combines the sportiness of a sedan with a variable interior and many practical solutions for everyday and recreational use.
The Audi Q5 can be equipped with optional heated and cooled front seats. The 540-liter (19.07 cu ft) cargo area can be easily expanded to 1,560 liters (55.09 cu ft). When the latches in the side walls are pulled, the spit rear seatbacks drop forward onto the seat cushions. All TDI and TFSI engines in the lineup are forced-induction units with direct injection and high pulling power. The start-stop-system is standard for all models. The 2.0 TFSI is particularly impressive. It uses numerous efficiency technologies to combine great power with good fuel efficiency.
Engine lineup:
– 2.0 TFSI quattro with 132 kW (180 hp)
– 2.0 TFSI quattro with 165 kW (225 hp)
– 3.0 TFSI quattro with 200 kW (272 hp)
– 2.0 TDI and 2.0 TDI quattro with 110 kW (150 hp)
– 2.0 TDI quattro with 130 kW (177 hp)
– 3.0 TDI quattro with 180 kW (245 hp)
Each version of the Q5 drives off the assembly line with a transmission tailored just for it. The four-cylinder models come standard with the manual gearbox. The seven-speed S tronic is standard in the 3.0 TDI and can be ordered as an option in the 2.0 TDI with 130 kW (177 hp). The 3.0 TFSI comes standard with the eight-speed tiptronic, which is available as an option with the 2.0 TFSI.
Nearly all versions come standard with quattro permanent all-wheel drive; the only exception is the 2.0 TDI with 110 kW (150 hp). With average fuel consumption of just 5.3 liters (44.38 US mpg), it is a very efficient version in the Q5 lineup. The chassis of the Audi Q5 is tuned for precise balance. Its five-link front axle can handle longitudinal and lateral forces separately; the electromechanical power steering is highly efficient.
The Q5 includes options for many feature from the full-size class, and Audi bundles a number of attractive optional features in the comfort package. The assistance package includes adaptive cruise control, Audi active lane assist and the parking system plus. Topping the infotainment range are the Bang & Olufsen Sound System and MMI navigation plus. The Bluetooth car phone online is the perfect complement.
A parallel hybrid, the Audi Q5 hybrid quattro is a sporty SUV that combines the performance of a six-cylinder engine with the fuel economy of a four-cylinder unit. A 2.0 TFSI with 155 kW (211 hp) and an electric motor with 40 kW and 210 Nm (154.89 lb-ft) of torque work together to provide the power. Their system output is 180 kW (245 hp) and system torque 480 Nm (354.03 lb-ft).
The Audi Q5 hybrid quattro accelerates from 0 to 100 km/h (62.14 mph) in 7.1 seconds and reaches a top speed of 225 km/h (139.81 mph). At a constant speed of 60 km/h (37.28 mph), it has an electric range of up to three kilometers (1.86 miles). Its top speed in electric mode is 100 km/h (62.14 mph). Fuel consumption is just 6.9 liters per 100 kilometers (34.09 US mpg) on average.
---
Source, please read more now.