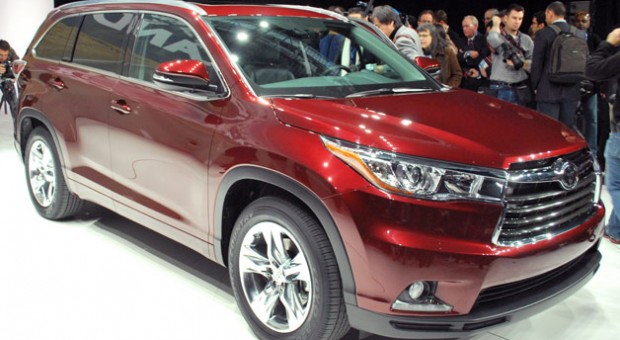 All-New 2014 Toyota Highlander
Dashing through the snow in a 270-horse all-new Highlander. Active families will be able to add holiday cheer to their new year when the all-new 2014 Highlander sport utility vehicle (SUV) begins rolling into dealer showrooms later this month. The all-new fuel-efficient Highlander Hybrid will arrive at Toyota dealers in mid-February 2014.
The all-new Highlander is a no-compromise mid-size three-row SUV that brings together the best in style, technology, comfort, capability, and safety. Its exterior design conveys both refinement and strength, which complements a totally redesigned interior that will raise the bar in its segment.
With three-rowseating for up to eight, an array of standard features, a host of available in-cabin technologies, and increased cargo capacity, the new Highlander offers a nuanced balance of style, comfort and utility. The total package is capped off with three powertrain choices: a fuel-efficient four-cylinder engine, a powerful V6 with a new six-speed transmission that will produce excellent all-around capability, and a V6-powered Hybrid Synergy Drive powertrain that delivers fewer emissions and segment-leading miles-per-gallon for a three-row mid-size SUV.
Sophisticated and dynamic, the new Highlander and Highlander Hybrid feature a progressive silhouette, a lower roofline for improved aerodynamics, and sculptured side-door panels. The exterior has grown in length by approximately three inches while width has increased one-half inch, conveying a sleek and strong appearance.
Toyota engineers raised the bar on interior design for the mid-size SUV segment by adding even more refinement and functionality to the new Highlander and Highlander Hybrid. The 2014 model will offer a premium interior highlighted by increased spaciousness for up to eight people, and an array of standard comfort, convenience and technology features.
Highlander will be available in four well-equipped grades: LE, LE Plus, XLE and Limited. Each will offer both front-wheel (FWD) and all-wheel-drive (AWD). AWD gas models will include standard Dynamic Torque Control.
All Highlander grades feature a 3.5-liter V6 engine and new six-speed electronically-controlled automatic transmission that offers selectable manual sequential shifting. The LE grade is also available in a 2.7-liter four-cylinder engine and the Limited grade is available with a hybrid powertrain.
2014 Highlander Pricing
Model
Grade
Engine
Drivetrain
13MY MSRP
($)
14MY MSRP
($)
MSRP Difference
($)
MSRP Change (%)
6942
LE
L4
FWD
$29,020
$29,215
$195
0.7%
6946
LE
V6
FWD
$30,395
$30,520
$125
0.4%
6948
LE
V6
AWD
$31,845
$31,980
$135
0.4%
6947
LE Plus
V6
FWD
$31,850
$32,740
$890
2.8%
6949
LE Plus
V6
AWD
$33,300
$34,200
$900
2.7%
6951
XLE
V6
FWD
$34,560
$36,040
$1,480
4.3%
6953
XLE
V6
AWD
$36,010
$37,500
$1,490
4.1%
6954
LTD
V6
FWD
$37,950
$39,640
$1,690
4.5%
6956
LTD
V6
AWD
$39,400
$41,100
$1,700
4.3%
6955
LTD Plat.
V6
FWD
N/A
$42,130
N/A
N/A
6957
LTD Plat.
V6
AWD
N/A
$43,590
N/A
N/A
6966
Hybrid LTD
V6
AWD-i
$46,370
$47,300
$930
2.0%
6967
Hybrid LTD. Plat.
 V6
AWD-i
N/A
$49,790
N/A
N/A
All prices listed above exclude the Delivery, Processing, and Handling
---
Source Toyota, please read more.
(Visited 6 times, 1 visits today)