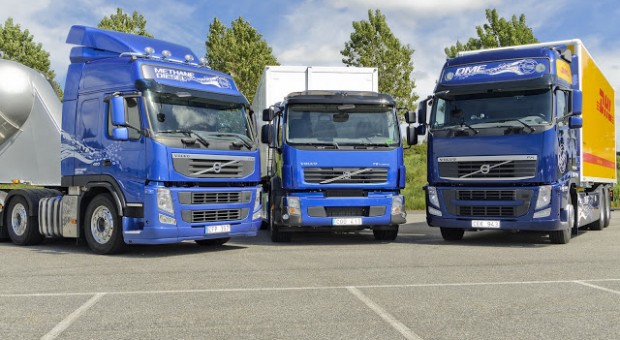 Volvo launches Volvo FE CNG gas-powered truck
Volvo Trucks is expanding its model range in Europe with a new version of the Volvo FE running entirely on methane gas. The Volvo FE CNG (Compressed Natural Gas) has been primarily developed for operations involving short driving cycles with repeated starts and stops such as refuse collection and local distribution. It is equipped with a new 9-litre Euro 6 gas-powered engine featuring spark plug technology and automatic transmission.
Methane gas is odourless when combusted and it contains very low levels of harmful particles. If the methane is a biogas, that is to say based on organic materials, emissions of carbon dioxide are up to 70 per cent lower than those of a diesel truck.
The Volvo FE CNG is powered by an all-new 9-litre Euro 6 engine featuring spark plug technology that produces 320 hp and 1356 Nm of torque.
Thanks to its fully automatic transmission, the truck retains the same excellent driveability and productivity as the conventional Volvo FE. The automatic transmission also gives faster driveline response.
Sales of the new Volvo FE CNG will start in Europe in August, with series production getting under way in early 2015.
Facts Volvo FE CNG
• 4×2 (19t), 6×2 (19.5 – 26t) rigid
• G9K gas engine, 9-litre Euro 6 with spark plug technology, 320 hp / 1356 Nm
• Fully automatic transmission
• Day cab
• Tank system for up to 160 m3 methane gas
• 2×4 or 2×3 tanks for compressed natural gas fitted on both sides of the chassis.
Facts methane gas
Methane gas is a collective name for biogas and natural gas, both of which largely consist of methane. Natural gas is a fossil product that is between 40 and 500 million years old and is extracted from deep inside the Earth's crust.
Biogas is similar to natural gas but it is a renewable gas that is created when organic material is decomposed by bacteria in an oxygen-free environment. It can for instance be created from refuse and other organic waste. When a truck runs on biogas, emissions of carbon dioxide are cut by up to 70 per cent compared with running on diesel fuel.
(Visited 25 times, 1 visits today)