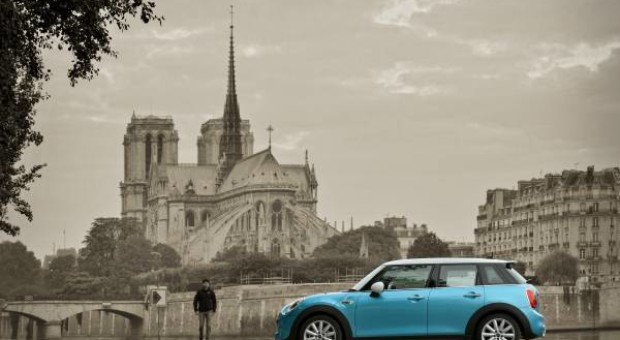 The MINI model family once again presents distinctive personalities in its latest generation. The most recent example of an attractive addition to the model range of the British premium brand will be on show at the 2014 Paris Motor Show. The international motor show in the French capital is the setting for the world premiere of the new MINI 5 door.
The second body variant of the new MINI offers two additional doors as well as expanded space for occupants and luggage, thereby providing new ways of experiencing the brand's hallmark driving fun and individual style in a premium model of the small car segment. This means that for the first time in the brand's 55-year history, MINI is now represented in this vehicle category with a 5-door model.
The launch of the new MINI 5 door consistently continues the successful strategy of extending the brand's popularity to additional target groups by expanding the model range. This debut takes the MINI family to a total of eight members. The selection of special equipment features, accessory products and MINI Connected Services that enable hallmark MINI driving fun to be tailored individually to personal preferences is also larger than ever before.
The latest highlights in these areas will also be on show in Paris. And MINI offers visitors the opportunity to see a spectacular concept study at the Paris Motor Show from October 4th to 19th 2014, too. The MINI SuperleggeraTM Vision embodies a pioneering interpretation of the tradition-steeped roadster concept – blending British style, Italian flair, purist design, consistent lightweight construction and purely electric power.
An individual character with versatile qualities and yet still a genuine MINI: such is the MINI 5 door, presented for its world premiere at the 2014 Paris Motor Show. Two additional doors facilitate entry to the rear, where three seats are available.
The MINI 5 door has a wheelbase that has been extended by 72 millimetres, providing increased space not just for occupants. The luggage compartment is now also around 30 per cent larger than that of the 3-door model, with a volume of 278 litres. What is more, the rear backrest with a 60:40 folding split enables expansion of the luggage compartment volume to as much as 941 litres.
At the market launch of the new MINI 5 door (combined fuel consumption: 5.9 – 3.5 l/100 km, combined CO2 emissions: there are six engines of the new generation to choose from with three or four cylinders as well as MINI TwinPower Turbo Technology.
These cover an output range from 70 kW/95 hp to 141 kW/192 hp, and in conjunction with cutting-edge suspension technology harmonised precisely to suit each specific model they ensure unmistakable driving fun. Other features characteristic of the new MINI generation also include the optimised display and operating concept as well as the large selection of innovative driver assistance systems.
Source: BMW Group
(Visited 21 times, 1 visits today)