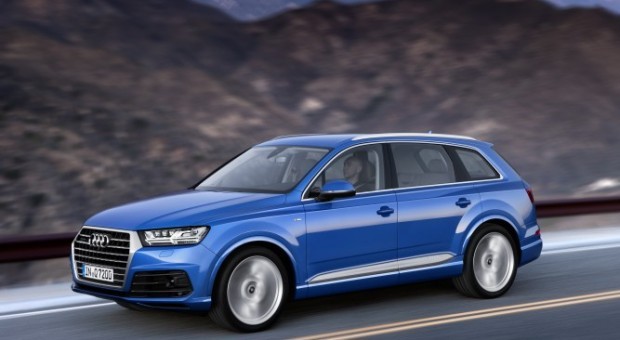 Audi Unveils The Q7
Audi recently revealed its second generation Q7, scheduled to make its international debut at the 2015 Detroit Auto Show. Based on the photos you see before you, the second-generation Q7 manages to retain its familiar silhouette, with most of the changes and upgrades on the 2015 Q7 taking place under the metal.
Touted as the lightest vehicle in its class, the all-new Q7 is underpinned by the Volkswagen Group's SUV version of the MLB Evo platform, featuring extensive use of aluminium and high-strength steel.
Moreover, the new Q7's   doors, hood, front fenders and rear hatch are all made out of lightweight aluminium. With all these weight saving measures, the German SUV weighs significantly less than before at 1,995kg in 3.0 TDI trim – that's 325kg lighter than the equivalent outgoing model.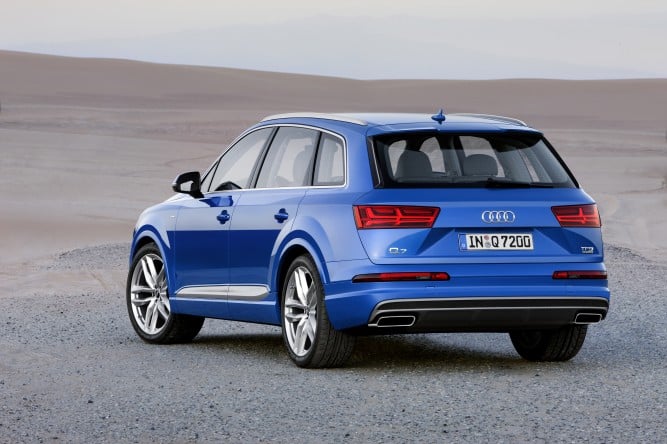 Styling wise, the all-new Q7 adopts a much sharper design that we saw on recent Audi models. Design cues include the signature single frame front grille, raked D-pillars as well the subtle haunches on top of the wheel arches that pay homage to the classic Quattro models.
As for headlight options, three are offered – xenon, LED and matrix LED, all of which are fitted with integrated double arrow LED daytime running lights. Only the top spec variant receive dynamic turn signals in the taillights.
Engine options for the all-new Q7 include:
3.0-litre V6 TDI diesel with 272hp and 600Nm of torque
3.0-litre V6 TDI diesel with 218hp and 500Nm of torque
3.0-litre V6 TFSI petrol with 333hp and 440Nm of torque
2.0-litre TFSI petrol with 252hp and 370Nm of torque
All variants of the new Q7 come equipped with an eight-speed torque converter type automatic transmission and quattro all-wheel drive system. One of the highlights on this German SUV is all-wheel steering that helps when manoeuvring the car at low speeds.
The electrification of the all-new SUV range comes in the shape of the e-tron Quattro plug-in hybrid model, making it the carmaker's first ever plug-in hybrid diesel.
Powered by a 258hp 3.0-litre TDI diesel internal combustion engine paired to an electric motor, the ultra-efficient model is said to consume just 1.7-litres of fuel per 100km while emitting 50g of CO2 per kilometre. The Q7 will also be able to run in all-electric mode up to a range of 56km. Performance-wise, it hit triple digit speeds in 6.0 seconds before topping off at 225km/h.
Inside, the all-new Q7 features the Ingolstadt-based carmaker's new 'virtual cockpit' system that we first saw on the third-generation TT, along with an updated MMI infotainment system that is compatible with both Apple CarPlay and Google Android Auto function. Navigating through the infotainment system is handled by a large touchpad that has allowed for some of the knobs and buttons to be eliminated, providing a cleaner layout.
Standard equipment on the German seven-seater include a Bose 3D sound system, but for those looking for a bit more audio refinement can opt for the more expensive 23-speaker Bang & Olufsen Advanced Audio System, listed as an option. Adding to the entertainment system are either one or two optional 10.1-inch tablets, each powered by a NVIDIA Tegra 4 processor.
The Android OS tablet that is capable of linking to the Google Play app store, provides access to various apps, music, games and much more. Also, you can also remove the tablets from their mounts and use it at home or office by connecting to an external WiFi network.
Author Bio:
Chris Aaron has a strong passion for everything related to the automotive industry, and shares his insights with audiences online, including the readers of Carlist.my. He often posts news and analysis involving world-renowned brands such as Audi, BMW and others.