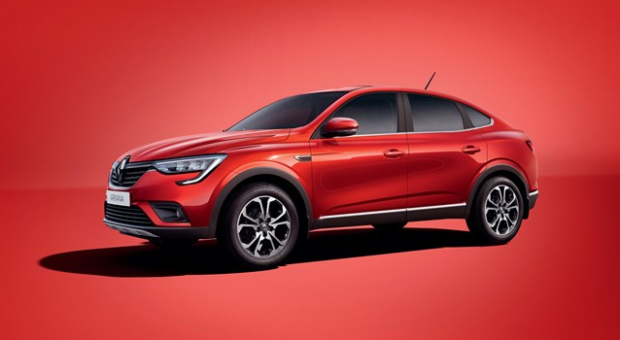 New Renault Arkana belongs to the circle of the safest vehicles, obtaining the maximum 5-star Euro NCAP rating. 
Protection of the occupants:  
Based on the CMF-B modular platform, the same as Captur, New Renault Arkana benefits from an optimized body structure, redesigned seat structures and seatbelt fasteners with pyrotechnic pre-tensioners and load-limiters, for optimal support of all occupants. Renault is also an ambassador for Fix4sure technology for excellent occupant restraint to Fix4sure technology for excellent occupant restraint to avoid submarining (when the body slides below the belt).
With its sleek lines and unique highly profiled style, New Renault Arkana is also a true family SUV, very spacious and comfortable, with plenty of room, including easy installation of child seats in the rear outboard rear seats.
A complete range of driving aids for greater comfort and safety for all: 
New Renault Arkana is equipped with the latest generation of driving aids. Among these ADAS (Advanced Driver Assistance Systems), the Motorway and Traffic Assistant, traffic sign recognition, blind spot warning, lane departure warning and lane keeping assistant ensure safer and more serene driving. Active Emergency Braking, for example, when cyclists and pedestrians are detected, alerts the driver to a dangerous situation and can initiate braking if the driver fails to react. Another safety factor is the increased vision and visibility, achieved in particular by a 360° camera, 100% LED front headlamps as standard, automatic headlamp activation and an electro chromatic interior rearview mirror.
Whatever the weather conditions, day or night, when overtaking or changing lanes, in the city or when parking, these driving assistance technologies all act in favor of better safety for everyone, contributing to greater peace of mind and less danger, whether you are in the vehicle as a driver or passenger, or outside as a vulnerable road user.
Therefore, New Arkana ensures active and passive safety at the highest level according to Euro NCAP criteria. This 5-star rating reflects Renault's expertise in this area and its commitment to offering more innovative, reliable and safer vehicles to as many people as possible. 
To go further 
New Renault Arkana is truly hybrid, both in its DNA and in its expression. Affirming a strong personality, it overcomes its contradictions by combining them brilliantly.
Sporty, hybrid & spacious 
Hybrid model to the point of style, with its racy lines and sporty dynamism, Arkana makes no compromises in terms of roominess, price, or fuel efficiency. Essential ingredients for this modern SUV Coupé that is both modern and ideal for the family, who will appreciate its space, driving comfort and well-being on board. All this with the highest level of active and passive safety for all occupants and road users.
Hybrid powertrains 
Hybrid, New Arkana is also hybrid because of its exclusively electrified engines:
On the one hand the full hybrid E-TECH 145 (available this summer) with all the advantages of electric without plugging in: up to 80% of the time spent on electric in the city, up to 40% less fuel consumption compared to an equivalent petrol engine, and CO2 reductions for maximum driving pleasure, with silence, comfort and responsiveness.
On the other hand, petrol engines with 12V micro-hybridisation (TCe 140 then TCe 160), synonymous with economy, flexibility and driving pleasure. Micro-hybridization reduces fuel consumption and CO2 emissions, while ensuring smoother restarts and greater driving comfort.
Challenging traditional codes with its unique concept, Arkana is a vehicle with an international vocation that will be conquering a fast-growing C segment. With New Arkana, Renault is the first generalist manufacturer to offer an SUV coupé in Europe, a category hitherto reserved for premium brands.
Source: Renault
(Visited 44 times, 1 visits today)