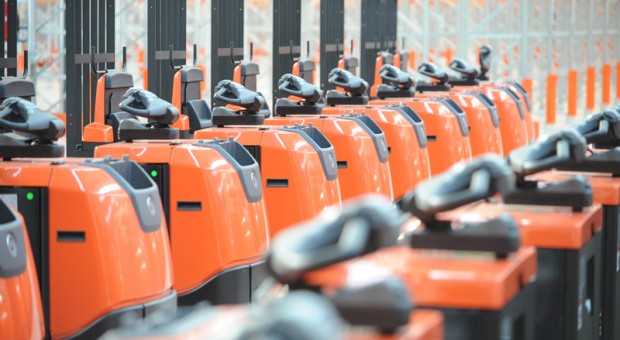 The Department of Occupational Safety and Health (DOSH regulations have strong guidelines that revolve around forklift fork use and inspection.
The guidelines state that a forklift must be inspected for any defaults or issues whenever it is first put into use and every single day afterwards. If a forklift is used constantly during the course of a day, it is to be inspected again at the end of the shift.
There are many handouts and simplified check lists available that can serve as operator's "Daily Forklift Safety Checklists."These can easily be attached to the forklift to help remind employees to go through the check list every time the forklift is used. Some employers keep written records or have sign-off sheets to ensure that their employees are doing the checks and maintaining a safe fleet of forklifts for the company.
Forklifts do a lot of work and many businesses and professions rely heavily on them to get work done. Without the forklift fleets, many warehouses and other businesses would lose millions in revenue each year. However, it is not enough to have a large fleet of forklifts at your disposal; you need to ensure that they are safe and fully operational.
Maintenance Safety
There are several simple steps you can follow to keep your fleet safe and fully operational:
If a forklift undergoes inspection and is deemed to be unsafe, it must be removed from service and not used until it can be properly repaired.
Routine maintenance, as according to the user's guide, must be followed in order to keep the forklift operating correctly.
Keep a written record of any maintenance and repairs that are made. This is important because any DOSH officialwho comes to investigate any instance or accidentwill request to see your record of maintenance and repairs. Lack of record may result in fines or the inability to remove blame from you for any accidents that might occur.
When parts must be replaced, make sure you use manufactured parts that came with the original or something that is interchangeable with it.
Do not change or alter anything on the forklift or forklift forks, as this can compromise other systems. The smallest change can alter the balance, load bearing capacity, or integrity of the entire forklift.
Try to always have someone with you when you are doing work on the forklift. Even just having someone in the same area that can hear you if something goes wrong is better than having no one around at all.
Safety in the Maintenance Area
Safety when working with forklifts is not confined to their operation only. Safety needs to be at the forefront of everyone's mind when it comes to maintenance and repair work. To prevent injury or sickness when doing maintenance on a forklift, there are several things to keep in mind:
• Do not work in an area that where flammable or combustible fumes may be present or where flammable materials are located.
• Ensure adequate ventilation to the area where the work is being done to prevent the buildup of exhaust, vapors, dust,or fumes.
• Avoid all flammable solvents and do not use them at any time on a forklift to clean it, only non-flammable cleaners should be used.
• Never crawl under the forklift if it is being supported with just a jack. Do not get under any lift truck fork that is supported using hydraulic pressure alone as it is not reliable or steady.
•  To make sure the engine is not accidently started when work is being carried out, remove the key or completely disconnect the cables from the battery. If it is the electrical system that you will be servicing, then disconnect the battery prior to starting any work.
• Review the user manual to ensure that all steps are carried out properly and that proper protocol and procedures are followed though.
• Work with a buddy to ensure your safety. This is especially important if you are going to be working under the forklift.
Safety is not the responsibility of one individual or one department. Workplace safety is a team effort and everyone must be on the same page and follow all safety rules and guidelines at all times.
Each and every member of the team needs to work together to ensure all forklifts are safe to operate and that they have been properly inspected and maintained. It is a team effort and just as it takes a fleet of forklifts to get the job done, it takes a team of educated and committed employees to ensure that safety remains the number one priority.
Author Bio: Marcel Vandentop is an authorized dealer of superior quality lift truck fork, caterpillar forks and all types forklift spare parts for major brands of lift truck Fork with same day shipping.