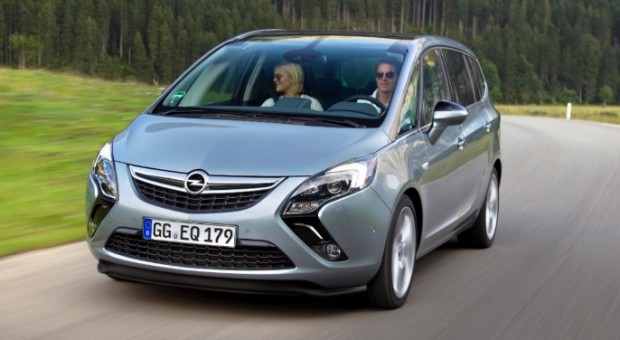 New 1.6 SIDI Turbo: Top Gasoline Unit for Opel Zafira Tourer
The new 1.6 SIDI Turbo engine completes and tops the gasoline engine offer in the Zafira Tourer. It joins the 85 kW/115 hp naturally aspirated 1.8-liter and the two 1.4 Turbo engine versions with 88 kW/120 hp and 103 kW/140 hp.
While all competitors provide maximum torque of 240 – 250 Nm, the Zafira Tourer 1.6 SIDI Turbo delivers up to 280 Nm between 1,650 and 4,250 rpm. It accelerates from zero to 100 km/h in 9.2 seconds, offers excellent elasticity with acceleration from 80 to 120 km/h in fifth gear in just 9.5 seconds and reaches a maximum speed of 212 km/h.
Following its debut in the Opel Cascada convertible, the 1.6 SIDI Turbo from the new family of mid-size gasoline engines with 125 kW/170 hp now tops the Zafira Tourer gasoline offer. The all-new direct injection engine stands out with its maximum torque of up to 280 Nm – 12% more than its closest competitor in the segment of the 150-180 hp compact monocabs. Low-end torque and elasticity are also benchmark, with the maximum torque already available at 1,650 rpm, providing smooth acceleration and strong pulling power.
The new 1.6 SIDI Turbo in the Zafira Tourer is also designed to offer superior refinement with exceptionally low noise and vibration levels. In addition, its fuel consumption and CO2 emissions are among the best in the segment with only 6.6 liters per 100 km (combined cycle) and 154 g/km CO2 , thanks to state-of-the art technology including the Opel Start/Stop system.
The new generation 1.6 SIDI Turbo engine in the Zafira Tourer also comes with a new generation six-speed manual transmission. It matches the highest standard in the segment for fast and smooth shifting thanks to numerous measures that have been implemented in the transmission internals and shifter mechanism as well as the reduction of shift travels. A new, low-friction six-speed automatic transmission featuring an Active Select function to allow manual shifting for a more sporty driving experience is also available.
Prices for the new Zafira Tourer 1.6 SIDI Turbo start at 28,155 euros and 29,450 euros with the six-speed automatic gearbox (RRP in Germany). It can now be ordered and deliveries will start before the summer.
The new 1.6 SIDI Turbo is one of the three major engines to be introduced in the Zafira Tourer in 2013. The others are the 2.0 BiTurbo CDTI which makes it the fastest diesel-powered compact monocab, and the new generation 1.6 CDTI that reduces NOx emissions by 70 percent and already complies with Euro 6 emissions standards. The state-of-the-art engine also combines 320 Nm of maximum torque with fuel consumption of 4.1 liters per 100 km and emits just 109 g/km CO2 – outstanding values for a spacious seven-seater.
---
Source, Opel Media DE.