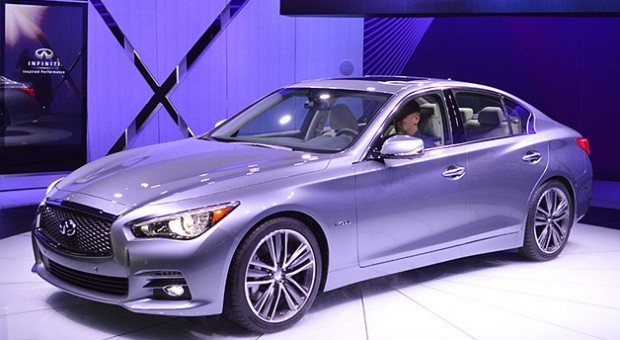 Pirelli and Nissan Are Teaming Up for Something Special
At the 2017 Geneva International Motor Show back in March, Infiniti – the luxury vehicle division of Nissan – unveiled a new sedan, the follow-up to the Infiniti Q50 that hit the scene a couple of years ago. Early Q60 models have been on sale in select locations for a few months, but Infiniti is currently in the stages of unveiling more information about the proper replacement. The 2017 Infiniti Q60 – which is also being referred to as Project Black S – is set to formally replace the V37 Coupe as the big item in their lineup.
If you're not familiar with Infiniti, then allow us to give you a brief introduction. Infiniti's mission is to bring ultra high performance to everyday vehicles; Nissan's introduction of the Infiniti brand is often seen as their attempt to have something to rival Mercedes-AMG, the high performance division of Mercedes Benz.
Infiniti haven't quite struck the market in the same way that AMG has, but there's no denying that the recent Infiniti models have a lot of fans, and for good reason – they're beautiful and powerful beasts. But, for some reason, they seem to have been lacking some sort of edge that would really see them explode. (And by 'them', I'm referring to the division's sales, not the cars themselves… that probably wouldn't help them gain more popularity.)
But Infiniti want to show that they're taking their high performance game to the next level, which may be why it was announced yesterday that they are teaming up with Pirelli – yes, the guys who provide Formula One vehicles with their tyres. And Pirelli will be – surprise, surprise – providing Project Black S with powerhouse tires.
Pirelli found themselves in a few auto news articles yesterday for another reason – they got themselves approval for Original Equipment status across more than half of their tyre catalogue, which will help drivers who need replacement tyres ensure that they're really getting like-for-like when it comes to Pirelli tyres. Businesses such as Wiltshire Tyres can provide you with more information if you find yourself requiring a like-for-like replacement for a worn-out or busted tyre; clearer quality standards such as the ones reiterated in Pirelli's OE news will make it easier for businesses and drivers to get what they need.
So it's becoming pretty clear that the Project Black S is going to be something pretty darn special. The unveiling in March, as well as yesterday's news about the collaboration between Infiniti and Pirelli, has certainly gotten auto enthusiasts talking in a way few other announcements in the auto world of 2017 have managed.
As for the other specs, there is some more information there, too. Infiniti seems to claim that there will be a 25% gain in horsepower when compared with the previous coupe; the V-6 engine in that one offers an impressive 400 hp, but the high-flow titanium exhaust found in Project Black S will offer about 500 hp. The general shape is slimmer, and carbon fiber elements are in place that boost the aerodynamics of the Black S; combine these features and you've got something that will cut through the air like a hot knife through butter.

(Visited 1 times, 1 visits today)