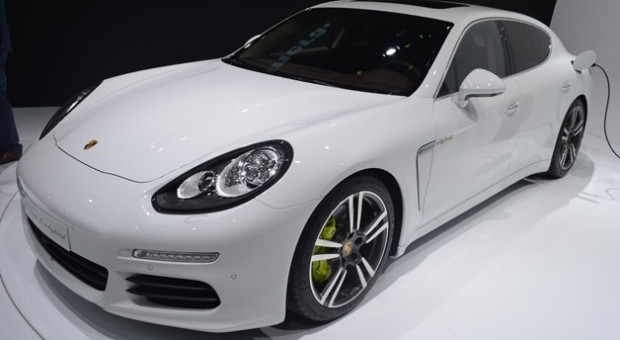 Porsche is implementing a unique, integrated universal charging solution in conjunction with the introduction of the new 2014 Panamera S E-Hybrid – which celebrated its world premiere at the 2013 Shanghai Auto Show. This solution covers all aspects of electric driving – from charging accessories to installation of infrastructure and even partial operation by compatible smartphones.
Porsche has now developed a comprehensive integrated solution that is intended to cover all markets for the Panamera S E-Hybrid – a world car that will be driven on all continents.
This is a challenge as certain system parameters vary by country and region, such as the plug and electrical output types and grid voltages and frequencies. In its e-mobility solution, Porsche has put together a complete package from which customers can choose what they need. Playing a key role here is the specially developed Porsche Universal Charger (AC) which is included as standard. It provides the connection between the vehicle's charging interface and many different types of electrical outlets which can supply the car with AC electricity at home or on the road.
Along with the charging equipment, the e-mobility concept also includes customized solutions for installing charging infrastructure and conveniently operating many vehicle charging and convenience functions via a smartphone app.
Porsche: Universal Charger Lets Users "Fuel Up" With Electricity At Home Or On The Road | Click the link, for more information about the Porsche Panamera S E-Hybrid – Via.
(Visited 1 times, 1 visits today)