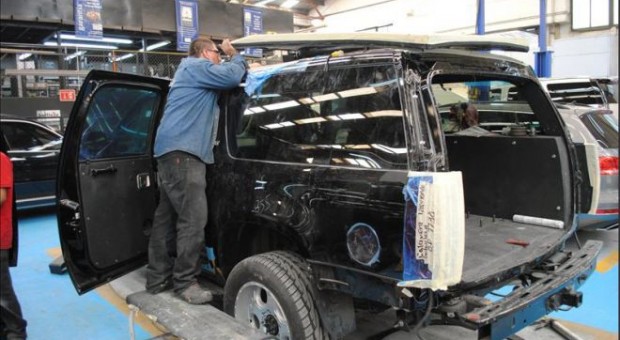 Part of the fun of owning a car is learning all of the tinkerings that come with it, but some jobs are really just best left to the professionals. Cars are complex machines and have the capability to become very dangerous if the repairs you make aren't up to scratch. Even aesthetic modifications can become costly if you end up making a mistake, so here are six car repair jobs that we recommend you leave to those with a little more experience.
Alloy wheel repairs
This may seem like an odd one to start with, but hear us out. Scuffing or kerbing your alloy wheels can be devastating, especially if they're new or were hard to come by. A quick search on Google will have you believe that an alloy wheel repair is easy and attainable by everyone, but the truth is it can leave you with more harm than good. Alloy wheel refurbishment is an art, especially if your scuffs or dents are deep-set. You could be scrubbing with a wire brush for hours to get a fine scratch out, and if you don't follow the steps to a tee, then you risk being left with a wheel that looks worse than when you started. Save yourself the elbow grease, pain and hassle and let the professionals do the work for you. Your rims will come back looking as good as new and you'll save yourself the embarrassment of having to go in for them to repair your botched attempt.
Windscreen replacements
A stone kicked up by the car in front, a low hanging tree branch, or a chip that's turned into a nasty crack can quickly render your windscreen illegal. You may have had your windscreen repaired before and now fancy a crack at it yourself, but unless you have experience handling a large piece of glass and are comfortable working with defrosters and the other windscreen technology that comes in many cars nowadays, then it's another job best left to the professionals. No-one wants to be driving down the road with an ill-fitting windscreen, and you may think that you can live without the defroster for now, but come back to that question when it comes to the wintertime.
Wheel alignment
Misaligned wheels can cause your car to pull to one side and for your tyres to wear unevenly. Once again the internet makes this process seem a lot easier than it actually is, and for satisfactory results, you need to take your vehicle to someone who has the specialist equipment needed to accurately re-align your wheels. If you try to align your wheels at home and get it wrong, even by the smallest of margins, then you risk causing more severe damage to your car that may or may not be repairable when you finally take it into a garage.
Anything to do with shocks
If a shock has gone on your car, then whatever you do, don't try to touch it yourself. The shocks of your car are under immense pressure and a single wrong move could turn one into a lethal weapon. Don't let YouTube tutorials fool you into thinking that a shock replacement or repair is a safe job, because it isn't, so take your car into someone who has the right equipment and experience to remove them safely,
Suspension
Fixing the suspension on your car often requires the vehicle to be off the floor. Attempting to fix something major such as the suspension without the necessary lifts you need to safely hold your car above ground could leave you at risk of being crushed. Even if you do happen to have a garage with a built-in lift system then we'd still recommend leaving this one off your at-home DIY list because most suspension jobs require you to balance the wheel axis which is best done with a computer-assisted programme.
Transmission repairs
Unless you have some serious mechanical know-how, trying to fix the transmission on your car can feel a bit like fumbling around for a needle in a haystack and what's more, the tiniest of self-made errors could take your transmission from repairable to un-usable. Although transmission repairs are expensive, it's another job best left for the professionals, so dig around for the best quote and bite the bullet rather than risking causing irreparable damage.
So there you have it – six-car repair jobs that we suggest you don't touch yourself but leave to the professionals. Do you have any others you'd add to the list?
(Visited 14 times, 1 visits today)