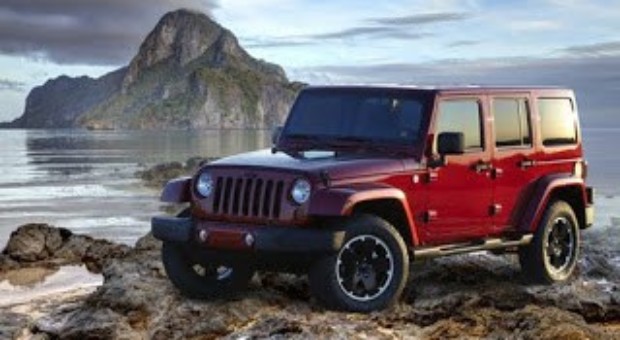 Jeep Introduces New Limited-edition and
Wrangler Unlimited Altitude
Jeep® Introduces New Limited-edition Wrangler Unlimited Altitude
On the heels of the popular Jeep® Wrangler Call of Duty: MW3 and Arctic models – and in response to Wrangler enthusiasts' continued desire for limited-edition vehicles – Jeep is introducing its new, 2012 Wrangler Unlimited Altitude edition.
The Jeep Wrangler Unlimited Altitude is the latest Altitude model in the Jeep lineup, following the introduction of the Grand Cherokee, Compass and Patriot Altitude models last month.
Based on the 2012 Jeep Wrangler Unlimited Sahara model, the Altitude edition offers Jeep enthusiasts a Wrangler with a unique appearance that includes a body-color hardtop combined with a variety of black-gloss exterior appointments, and a distinctive black-and-red interior theme.
"With sales up more than 30 percent year over year, Jeep Wrangler continues to show the special place it has in the hearts and minds of the American public," said Mike Manley, President and CEO – Jeep Brand, Chrysler Group LLC. "One of the many things Jeep enthusiasts love is the series of limited-volume, special-edition Wrangler models we produce.
The new Wrangler Unlimited Altitude builds on the previous models and delivers consumers yet another fun and distinctive Jeep vehicle straight from the factory.
"With a production run of only 4,500 units, we expect the Jeep Wrangler Unlimited Altitude to sell out very quickly," Manley added.
Jeep Wrangler sales were up 43 percent in March 2012 versus March 2011, and are up 30 percent for the year (through March). The new 2012 Jeep Wrangler Unlimited Altitude edition arrives in Jeep showrooms next month.
2012 Jeep Wrangler and Wrangler Unlimited
Jeep Wrangler – the most capable and recognized vehicle in the world – is even more capable both on- and off-road for 2012, courtesy of an all-new, more fuel efficient and more powerful 3.6-liter V-6 engine, and a new automatic transmission – both of which it shares with the award-winning Jeep Grand Cherokee.
Chrysler Group's 3.6-liter Pentastar V-6 engine – winner of the prestigious Ward's 10 Best Engines award – delivers 285 horsepower and 260 lb.-ft. of torque, while delivering up to 21 miles per gallon highway in the 2012 Jeep Wrangler. The improvement, when compared to the previous 3.8-liter V-6 engine, is 40 percent in horsepower and 10 percent in torque.
2012 Jeep Wrangler interior highlights include a recently redesigned instrument panel and storage areas with improved ergonomics and upgraded materials. A lockable console and upgraded door armrest areas boast comfortable touch points, while a redesigned center stack is easier to reach and operate. Heated, power mirrors are available, and drivers and passengers enjoy enhanced visibility courtesy of large rear windows.
2012 Jeep Wrangler Unlimited Altitude
The new Jeep Wrangler Unlimited Altitude edition includes a body-color hardtop with matching painted center sections on the front and rear bumpers. Unique eighteen-inch, five-spoke alloy wheels with black-painted spokes and polished wheel rings combine to give the Altitude model a one-of-a-kind appearance.
Wrangler Unlimited Altitude's exterior appointments are completed with the inclusion of a Mopar® black fuel fill door, a matte black "Jeep" grille badge and a black tone-on-tone hood graphic.
A black-and-red theme is found inside the new Jeep Wrangler Unlimited Altitude. Specifically, red accent stitching adorns black leather seats, door panels, center arm rest, floor mats and steering wheel.
Vent rings, steering-wheel spokes, door pulls and passenger-side dashboard grab handle and berber floor mats all appear in black, to provide the contrasting and one-of-a-kind interior.
Jeep Wrangler Unlimited Altitude models are available in Deep Cherry Red, Black, Bright White and Bright Silver Metallic, and will be available at a Manufacturer's Suggested Retail Price (MSRP) of $33,740.
Source:  Jeep® Wrangler
(Visited 1 times, 1 visits today)