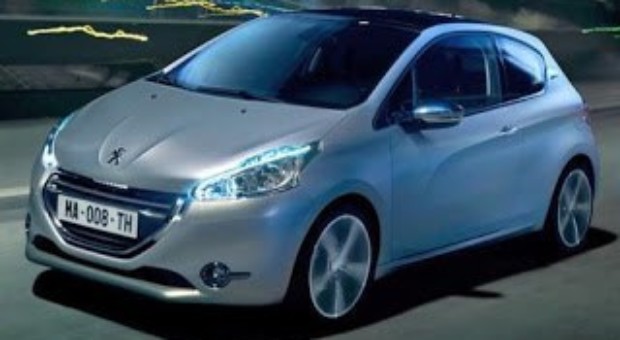 Peugeot previews a 208 limited edition
Peugeot is revealing two concept cars
XY Concept, exclusive and urban – GTi Concept, the re-generation of a legend
Peugeot is revealing two concept cars in Geneva, the XY Concept and the GTi Concept, which present two expressions of the Marque's upmarket trend, in the "supermini" segment.
These concept cars interpret the generation leap already defined by the 208 in different contexts. The XY Concept is intended for city dwellers who love distinction and refinement, whereas the GTi Concept re-generates a legend.
The XY Concept and GTi Concept show off exclusive and sophisticated colours and news ways of working with materials.
Introduced on the 208 and particularly charismatic, their front face sees the light signature of the lamps refined by their Full-LED functions and a flat-guide latest generation light guide. A prominent expression visible both day and night!
Using the same Full-LED technology, the front direction indicators surround the main beam headlamps giving these concept cars the impression of having an iris.
Rich yet also light, the internal headlamp units are rectangular and, on the main beams, the floating trim suggests a feline pupil… a technological and precise expression that is dear to the Marque!
This precision continues with the perfect integration of style components in the bodywork. The wheel arches are fitted with wing extenders and the bodywork with body sills, which hug the wheels.
208 Ice Velvet : Limited Edition
With a strong tradition of making vehicles for pleasure, Peugeot previews a 208 limited edition, a car with exclusive paint finish and a strong personality.
Only 650 vehicles will be released across 18 European countries, of which 208 cars have been allocated to France. 208 Ice Velvet will offer customers the exclusivity of driving a unique 3 door 208. This limited edition can be reserved on the Brand's website from today.
Specially developed for this limited series, its satin paint finish gives this exclusive 208 its name: 208 Ice Velvet. It is also characterised by its rich and unique level of equipment that, at the same time, underlines both its sensual and technological appearance.
Innovative, with a fine mix of technology and sensuality, the Ice Velvet paint finish is sublime with its silky sparkle and it sensual appearance. The 208s natural qualities: lightness and agility, sensual and full of energy, the Ice velvets subtle glitter underlines the inventive style of this paint finish.
This paint marries naturally with the chrome detail on the bodywork (radiator grill, fog lights, panoramic glass roof and rear view mirrors in dark chrome; exhaust pipe and window surrounds in bright chrome) and with the 17'' 'Technical Grey' alloy wheels as with the innovative and luminous signature that re-invents the feline look of the Brand.
Source: Peugeot
Related External Links
(Visited 21 times, 1 visits today)