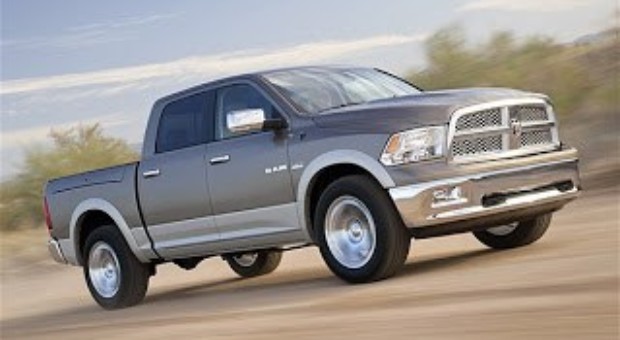 Ram Truck Breaks Guinness Book of World Records
Dodge Ram Truck
Canada's longest-lasting line of pickups was on full display Sat., Aug. 25 as it set a new world record.
Led by the new 2013 Ram 1500, 273 proud vehicle owners gathered at the Dresden (Ontario) raceway to successfully break the Guinness World Record for the "Longest Parade of Ram and Dodge Pickup Trucks" that included new and used models of all shapes and sizes.
"Ram trucks are the second best-selling vehicles in the country and we are proud of our owners for trucking down to the Dresden Ram Rodeo this past weekend to make history as they set a new Guinness World Record of the longest parade of Ram and Dodge trucks ever," said Reid Bigland, President and CEO, Chrysler Canada.
"Our Ram trucks deliver value, performance and segment leading safety and technology making the Ram 1500 the best value in the large pickup segment."
Organized by the Dresden Agricultural Society, the money generated by the parade will be donated to the Canadian Mental Health Association.
The event was part of the Ram Rodeo, an 11-stop tour that sprawls across southern Ontario, showcasing competitive rodeo skills performed by professional cowboys and cowgirls.
The parade spanned more than two kilometres throughout the Dresden Raceway and surrounding streets.
For Dresden, the World Record attempt is a unique draw to the tour stop as this quiet little town is now known to hold two World Records. In 2010, Dresden broke the record for the World's Longest Tractor Parade.
Chrysler Canada has been supporting grass roots rodeos throughout the country for more than 30 years that help give back to each community that they take place. The Ram Rodeo Program is involved with rodeo committees and Chrysler dealers in approximately 100 cities and towns.
The Ram Truck brand has the most innovative lineup of full-size trucks on the market. Ram Truck has emerged as a full-size truck leader by investing substantially in new products, infusing them with great looks, refined interiors, durable engines and features that further enhance their capabilities. Ram pickups are the longest lasting and most recognizable trucks on the road, and they get even better with the launch of the new 2013 Ram 1500. With pricing starting at $26,995, consumers get exceptional value, best-in-class fuel economy of 7.8L/100km and significant year-over-year added content.
Record Breaking Ram Truck Parade
273 Ram Trucks break the Guinness World record for longest pickup truck parade in Dresden, Ontario Canada on August 25, 2012. This is a b-roll and soundbite package for broadcasters to use, which is why there are spaces between many of the edits.
Source: Dodge
(Visited 22 times, 1 visits today)