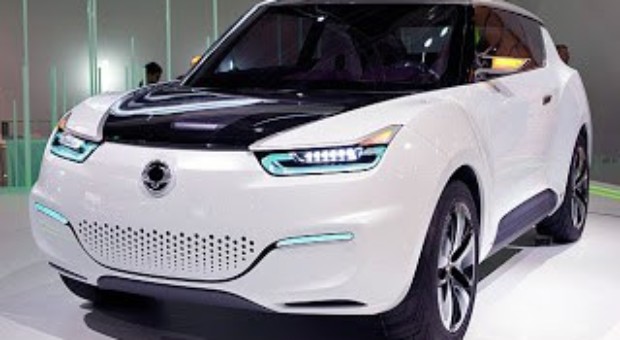 2012 Paris Motor Show – Ssangyong – Ssangyong e-XIV
Ssangyong e-XIV
Building on its previously seen XIV and KEV- see note – design concepts, SsangYong Motor Company will showcase its latest evolution, the e-XIV (electric – eXciting user Interface Vehicle) ##Q##range extender##Q## EV concept at the 2012 Paris Motor Show.
SsangYong displayed its XIV 1 B segment CUV (crossover utility vehicle) concept at the Frankfurt Motor Show in September 2011, and the XIV 2 Coupé at the Geneva Motor Show in March 2012.
Now it is integrating its eco-friendly EV technology seen in its two pure EV concepts – the KEV1 and KEV2, and equipping the e-XIV with a small 1 litre petrol engine to give the car real range extender capability for longer journeys.
A distinguishing feature of the e-XIV is its glass roof. This includes an integrated 12 solar cell panel for generating solar power to operate the car##Q##s auxiliary systems, while also providing greater light, enhanced spatial comfort to the cabin and improved visibility.
Research has shown that worldwide the average daily driving distance is less than 80km, and in EV mode, e-XIV will prove invaluable for daily commuting. But for those who need to drive further, the car##Q##s range extender capability gives it a range of up to 600km.
Styling concept
e-XIV is based on the XIV 2 CUV Coupé. It is a dynamic EV concept model with the emphasis on efficient energy use through its range extender system.
The styling of e-XIV as an environmentally-friendly vehicle running on electricity and supplemented by alternative energy, has been built using SsangYong##Q##s design language to create future products that embrace its development philosophy of ##Q##Robust, Specialty, Premium.##Q##
e-XIV pursues crossover design through the combination of the SUV styling of a sports coupé that is suitable both for active driving in the country and short distance motoring around the city.
Exterior
SsangYong##Q##s visual approach of ##Q##Robust Aesthetics##Q## manifests itself in the XIV concept series through the key design elements of ##Q##Inner Dynamic##Q## & ##Q##Subtle Tension##Q## to communicate that inner strength is built on detail and emotional tension.
With its rich side body volume and simple, modern lights, e-XIV looks dynamic and progressive, presenting a contemporary look to appeal to younger drivers.
Functional features of the e-XIV are finished in a simple, sleek style, while the high-tech solar cell panel applied to the glass roof maximises the emotional connection of driving in the open while enjoying the thought that ##Q##free##Q## solar power is being harvested.
In addition, the tyres developed exclusively for the driving efficiency of an EV, afford both comfort and safety thanks to the tyre tread design which improves grip while reducing friction.
Interior
Inside there is a four-bucket-seat configuration to provide comfort and privacy for each passenger. Each seat can be positioned to create a variety of seating combinations and a choice in space utilisation.
The interior structure evokes the sporty style of a crossover, and blends a mix of styling cues and materials including carbon fibre. The instrument cluster communicates with the driver using dynamic graphics, and enables active communication between car and driver by displaying necessary information on the centre facia in real time.
The e-XIV also combines the ##Q##Auto User Interface##Q## concept of XIV1 and XIV2 to offer a new direction for the car as a moving communication space by combining the latest IT developments for both automotive and personal smart devices.
Solar-powered smart interactive system
The e-XIV##Q##s glass roof solar panel converts solar energy to electric power and operates interior equipment such as the air conditioning, audio system and internal lighting. Drivers can also select their preferred method of driving by activating the car##Q##s VCU (Vehicle Control Unit) via a smart phone or a remote control.
Item Specification Detail
Solar
Module Solar Cell 4W 0.6V, 8A
Matrix Series circuit(SC) 20Cell
Power 80W 12V, 8A
Range extender electric vehicle
The e-XIV uses an 80-kW Permanent Magnet Synchronous Motor (PMSM), giving a range of 80km by taking power from the 16-kWh lithium-ion battery. Four hours are required for charging a fully discharged battery, and 20 minutes for quick recharging.
The car also features a range extending system comprising a two-cylinder 1,000cc petrol engine and a 20-kW generator. Once the 80km distance has been achieved, the petrol engine supplies additional power via the generator to extend the range up to 600km, emitting just 45g/km of CO2.
Keen to position itself as a responsible, environmentally aware global company, SsangYong Motor Company is striving to place itself at the forefront of eco-friendly vehicle design and manufacture. This will be achieved through the constant improvement of its high-efficiency internal combustion engines and the development of pure electric vehicles such as the KEV, and e-XIV range extender concept.
TECHNICAL DATA
Model e-XIV
Dimensions Overall length mm 4,160
Overall width mm 1,790
Overall height mm 1,575
Wheelbase mm 2,600
Motor 80kW
Engine 1.0 litre 2-cylinder petrol engine
Generator 20kW Permanent Magnet Synchronous Motor
Charging time Normal 4 hours, Quick 20 mins
Cruising range 80km with EV mode, 600km with Range Extend mode
Max speed 150km/h
CO2 g/km 45g/km
(Visited 4 times, 1 visits today)