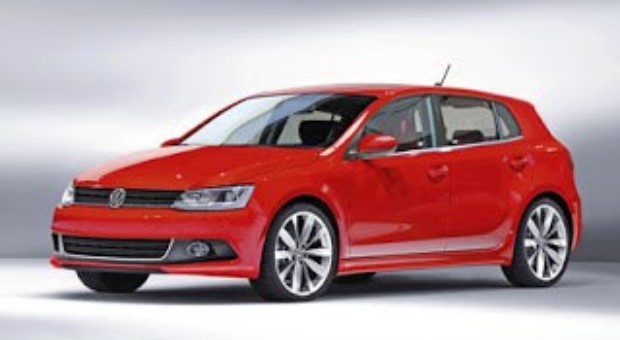 2013 Volkswagen Golf First Preview
2013 Volkswagen Golf First Preview
Meet the new Golf, same as the old Golf. Alright, so that's not a fair summary of the hundreds of millions of Euros that Volkswagen has spent designing the all-new architecture, making a car that's lighter, roomier, safer and more economical than the old model.
But it's certainly fair to say that no great risks have been taken with the Mk7's design, which could be politely described as 'evolutionary'. Or impolitely as 'unimaginative.'
But then, VW can argue that there wasn't much wrong with the existing formula; the 'mk6' Golf is still dominating the sales charts across much of Europe, despite being little more than a refresh of the mk5, which was launched back in 2004. Rival mainstream carmakers, many of which are struggling against mounting losses and falling sales, will be shuddering at the thought of having to compete with an all-new and slightly better Golf.
Golf 7
So what can we tell you? Well the mk7 Golf sits on the new 'MQB' mid-sized platform (as does the recently launched Audi A3), which is set to underpin a vast number of models from across the VW group. Lightweight construction means the new Golf is up to 100kg lighter than the outgoing car, despite having a stronger body and better safety performance.
It's slightly longer and wider than the outgoing car, with a longer wheelbase but shorter front overhangs. It's lower, too – with the improved aerodynamic profile resulting in a 10 percent improvement in the drag co-efficient.
Inside the very familiar-looking cabin the evolutionary theme continues. All Golfs will come with a standard touchscreen display – 5.8-inch in basic models, 8-inch with the full-spec satnav.
This operates with 'finger gestures that will be familiar to smartphone users' with standard features including DAB audio.
Less good news is the arrival of another battery of active safety systems, although we can hope that these will be less intrusive and more intelligent than the dull-witted ones we've already experienced.
These include a pre-crash system to pre-tension seatbelts, automatic braking assist, lane assist and a driver alert system. There's also a new 'multi-collision' brake system which, despite its name, is designed to prevent secondary impacts by automatically braking after a crash is detected to reduce the risk of another crunch.
It will also get one of the fashionable driving mode systems to switch throttle mapping and gearbox software with the optional DSG transmission between five modes.
Engine choice will be limited at launch to the group's worthier powerplants, with 83bhp 1.2-litre and 137bhp 1.4-litre TSI petrols plus two diesels, a 1.6-litre that combines 103bhp with a claimed 74.3mpg and a 2.0 TDI with 147bhp.
Pricing hasn't been revealed yet – expect a small hike justified by extra kit – and UK trim choices will likely stay as S, SE and GT. Rest assured, though, a GTI and possibly also an 'R' will follow.
Source: evo.co.uk
(Visited 3 times, 1 visits today)