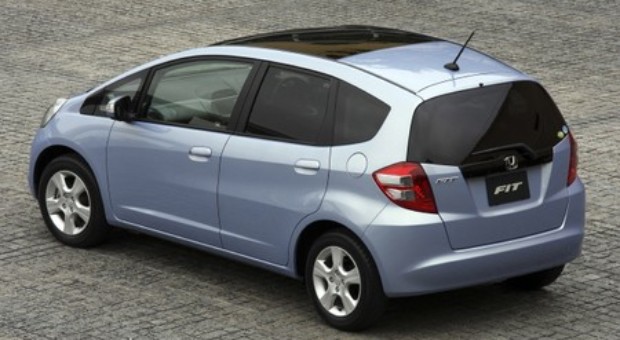 2013 Honda Fit Reviews, Specs, and Pricing
The Honda Fit retains its spot as the resale value leader in the subcompact car class for a third straight year, and it##Q##s easy to see why.
With the Fit, Honda hands drivers a bargain-priced tool that is neither pretty nor powerful. In place of all that is something rarer: density of thought. There##Q##s more intelligence packed into the Fit than in many cars nearly twice its size. It##Q##s the defining small car—mechanically precise, pared of excess fat, respectful of gasoline, and graced with fluid handling.
The icing on the Fit##Q##s cake, though, is just how much fun this vehicle is to drive. The 2013 Honda Fit##Q##s 117-horsepower, 1.5-liter 4-cylinder engine gives this little mover good motivation without compromising fuel economy.
Linked to a 5-speed manual transmission or a 5-speed automatic, this powerplant provides zippy acceleration and fuel economy of up to 35 mpg. We are particularly smitten with the Fit Sport, which has paddle shifters for its automatic transmission and a "sport" mode for surprisingly lively response.
117-hp, 1.5-Liter, 16-Valve SOHC i-VTEC® Engine
The 1.5-liter, 16-valve i-VTEC® engine gives the Fit a generous amount of horsepower in relation to its size and impressive fuel efficiency[1]. One-hundred six-pound-feet of torque at a low 4800 rpm means drivers can enjoy quick acceleration, creating a comfortable driving experience.
Steering Wheel-Mounted Paddle Shifters
All automatic transmission-equipped Fit Sport models feature sports car-inspired paddle shifters. Mounted to the steering wheel, the paddles provide more control by allowing the driver to shift the car manually.
Drive-by-Wire Throttle System
The Drive-by-Wire throttle system helps enhance the driving character of the Fit. With smart electronics connecting the throttle pedal to the throttle butterfly valve in the intake manifold, the engine response can be optimized to suit the driving conditions and to better match the driver##Q##s expectations
VEHICLE TYPE: front-engine, front-wheel-drive, 5-passenger, 5-door wagon
BASE PRICE: $16,115–$17,850
ENGINE: SOHC 16-valve 1.5-liter inline-4, 117 hp, 106 lb-ft
TRANSMISSIONS: 5-speed manual, 5-speed automatic, 5-speed automatic with manual shifting mode
WHEELBASE: 98.4 in
LENGTH: 161.6 in
WIDTH: 66.7 in HEIGHT: 60.0 in
CURB WEIGHT: 2500–2600 lb
EPA CITY/HWY FUEL ECONOMY: 27–28/33–35 mpg
---
Price
The base price for the Honda Fit is $15,325, which is $4,970 less expensive than the average for all Hatchback Cars.
Vehicle Type
This 4-Door Hatchback seats 5 passengers. Available with FWD, the drivetrain in the 2013 Fit sends power to the wheels through a standard 5-speed Manual transmission.
Gas Mileage
The Honda Fit achieves 27 MPG in the city, which is the average for all Hatchback Cars, and 33 MPG on the highway, which is 5.7% lower than the average for all Hatchback Cars.
Power & Torque
The Fit has a peak horsepower output of 117 HP, which is 16.4% less than the average for all Hatchback Cars. Maximum torque available is 106 ft-lbs, which is 26.9% less than the average for all Hatchback Cars.
(Visited 13 times, 1 visits today)