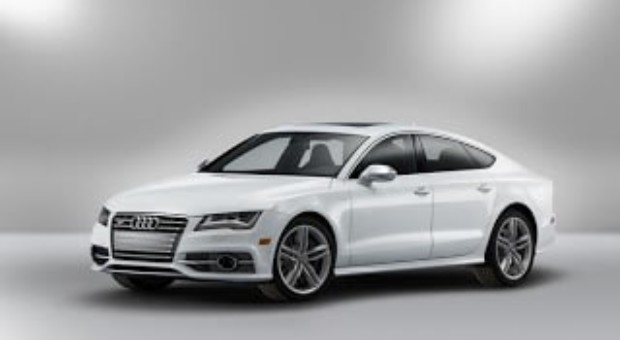 2013 Audi S7 Wins 'Connected Car of the Year' Award by Connected World Magazine
The 2013 Audi S7 today was named a Connected Car of the Year in the luxury category by Connected World magazine.
The Connected Car of the Year awards honor vehicles with technology that strike the right balance of safety, convenience, and infotainment.
Automobiles were evaluated at all price levels, ranging from the small and midsize, to the luxury, and ultra-luxury sedan-style categories.
Chosen by the editorial team at Connected World magazine, the winners for 2013 were named in the categories of small, midsize, luxury, ultra-luxury, truck, and green.
The all-new 2013 Audi S7 features the award-winning infotainment system Audi connect™. Audi is the first company worldwide to feature factory-installed wireless Internet, enabling the Audi connect™ to deliver connectivity to up to eight devices. With Audi connect, the onboard Audi MMI Navigation system is enhanced with Google Earth™ maps and real-time SiriusXM Traffic information, for a true aerial view of the route.
Audi connect also features real-time localized weather, news and live fuel prices; Google™ Local Search for detailed information about travel destinations, such as restaurant or hotel hours, pricing and customer reviews; and the myAudi Destination feature, which allows registered users to log on to Google Maps™ from any location and download up to 50 destinations to the vehicle.
The 2013 Audi S7 boasts exhilarating performance, intelligent efficiency and exclusive "S" design cues. The luxury 5-door coupe is equipped with an all-new twin-turbo 4.0 TFSI engine that delivers 420 horsepower and an impressive 406 lb-ft of torque from 1,400 to 5,300 rpm and can accelerate from 0 to 60 mph in 4.5 seconds.
The Audi 4.0 TFSI V8 engine brings progressive performance to S7 with the combination of smaller displacement and higher output. Audi cylinder on demand™ with active engine mounts and active noise cancellation ensures better fuel efficiency, a rear sport differential, air suspension, and a 7-speed S tronic® transmission.
Source: Audi
Related External Links
MG6: <b>car</b> review | Blog
TBP Guide to <b>Car</b> Leasing &amp; Buying | The Big <b>Picture</b>
<b>2013 Audi S7 Car</b> Specification, <b>Photos</b>, Prices <b>…</b> – <b>Cars News</b> – Hunk
(Visited 1 times, 1 visits today)