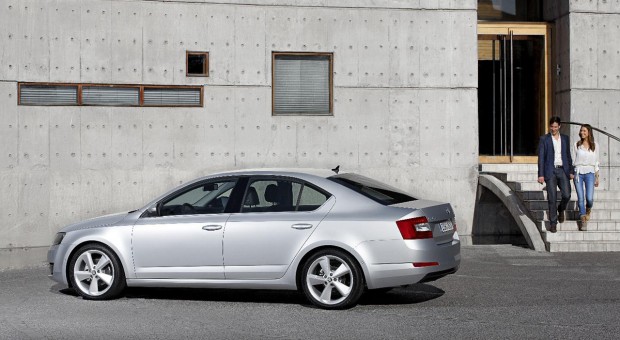 The new ŠKODA Octavia has been awarded five stars for its high level of safety in the Euro NCAP crash tests.
This top rating recognises the new ŠKODA Octavia's excellent performance, which is divided into occupant protection for adults and children, pedestrian protection and supporting safety systems.
The new Octavia is to be introduced onto the European markets in the coming weeks. The Czech car manufacturer will also be presenting the new ŠKODA Octavia Combi for the first time at the Geneva Motor Show.
"For ŠKODA safety is one of the key priorities," says Dr. Frank Welsch, ŠKODA Board Member for technical development. He continues, "That is also true for the new Octavia. Our goal is to make the journey as comfortable and safe as possible for both the driver and passengers.
With numerous active assistance systems and a comprehensive package of passive safety features, this new model is the safest ever".
"The test results from Euro NCAP are further evidence of our high level of safety. We are pleased with the overall result of a five-star top rating from independent experts", explains Welsch.
Euro NCAP awarded top marks for the circumferential occupant protection of adults seated in the front. The new ŠKODA Octavia achieved 93% of the possible number of points in this category.
The passenger compartment remains stable; the front-seated dummies are virtually undamaged after the test. The circumferential protection of front seated adults of different body sizes, in different seating positions, is always equally good. Likewise, the new ŠKODA Octavia achieved very good results in terms of child safety.
The Euro NCAP test engineers gave a high rating in pedestrian protection for the new ŠKODA Octavia. Additionally, the testers were impressed by the Octavia's innovative safety assistance systems, including the equipment fitted as standard in EU countries such as electronic stability control (ESC) and the driver and passenger seatbelt reminder.
The new ŠKODA Octavia also employs active safety systems, which had formerly been reserved for higher class vehicles.
These include the Front Assistant with emergency brake function (from May 2013), the Lane Assistant, keeping the Octavia in lane, multi collision brake with automatic brake intervention during an accident, a Crew Protect Assistant to safeguard the vehicle in accidents and the Driver Activity Assistant to recognise driver fatigue. These systems help to avoid accidents or mitigate their consequences for passengers and other road users.
The driver and passengers are well catered for with a comprehensive package of passive safety elements. Up to nine airbags in finely tuned interaction with 3-point seat belts reactively protect the occupants from injury.
It is the first time that side airbags in the rear and knee-airbags (standard in EU countries) have been available in the ŠKODA Octavia. Additionally, the precise chassis, long wheel-base and solid body structure ensure extremely stable handling for the latest ŠKODA model.
Source, read more.
(Visited 23 times, 1 visits today)