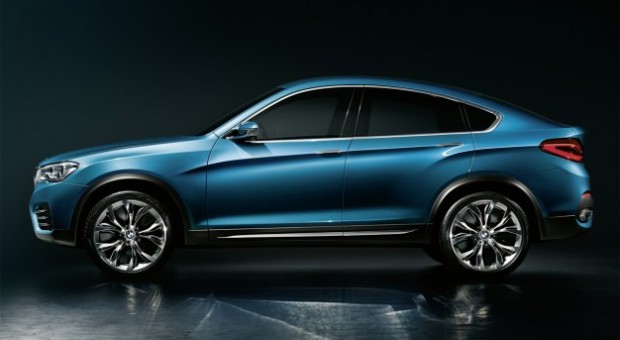 BMW hopes to duplicate the success of the X6 with a smaller, X3-based crossover. BMW is planning to build an X4. Based on the X3 architecture, this compact crossover will be to the X3 what the X6 is to the X5. That means the X4 will borrow its underpinnings—including powertrains—from the X3.
BMW has released photos of its newest 'sports activity coupe' show car: Concept X4. Very much resembling the larger X6, BMW plans to show off its latest concept car at the Shanghai Motor Show towards the end of April.
Given that the Concept X4 and X3 have the same wheelbase, it's safe to say that basic architecture will be shared between the two vehicles.
The Concept X4's total length is longer than the X3 however – giving it a more aggressive stance – just 231mm shy of the X6. It's also about 70mm lower and wider than the X6. All models will be fitted with fuel-saving goodies from the brand's "Efficient Dynamics" parts bin, including stop-start systems, brake-energy recuperation, and enhanced aerodynamics.
A pair of large front air intakes flank the trademark kidney grille, and the large wheel arches are filled out with 21-inch bi-colour alloys. Some of the obvious concept car design touches, like the mirrors and lights, will be changed before the car goes on sale – although the overall design will remain almost unchanged for production.
Rumoured petrol engines for the UK are a 2.0-litre turbo four-cylinder with 242bhp and a 3.0-litre turbo six-cylinder with 302bhp. Rounding out the engine options are two diesel powerplants: a 184bhp 2.0-litre four-cylinder and 306bhp 3.0-litre six-cylinder.
The X4 will have just four seats and, as with the X3 it's based on, only come with diesel engines in the UK – an entry-level 2.0-litre and a top spec 3.0-litre. A plug-in hybrid could also be on the cards, based around the 3-series ActiveHybrid system.
Pricing details are not yet available but its believed that the X4 will come in around £3000 over equivalent X3 models. Probably, prices will be slightly higher than the X3, so expect the range to start from around 35,000 Euro.
The production model will make make its debut later in the year at Frankfurt, with the car scheduled to go on sale in 2014. It will need to be a looker, though: When the X4 arrives, it won't enjoy the same luxurious dearth of competitors as did the X6. It will be a lovely sport car!
2014 BMW X4 Concept Car | Source #1, and Source #2 of the article.
(Visited 1 times, 1 visits today)