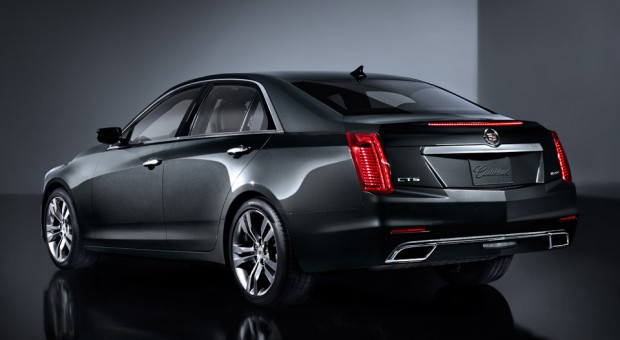 The 3rd generation Cadillac CTS sedan is based on the high performing rear drive architecture of the award-winning ATS sport sedan, moving Cadillac into the prestigious class of midsize luxury sedans. It will be the segment's lightest car, enabling the most agile driving dynamics in the class. A range of power dense powertrains underpin its performance, including the all-new Cadillac Twin-Turbo engine and eight-speed automatic transmission.
"The all-new 2014 Cadillac CTS sedan delivers crafted design, thrilling performance and sophisticated technology," said Bob Ferguson, vice president, Global Cadillac. "The car that has always been Cadillac's centerpiece stretches figuratively and literally to challenge the world's best."
A longer, lower and more athletic-looking proportion is introduced on Cadillac's landmark sedan and evolves the brand's Art & Science design philosophy. While growing five inches (127 mm) in length, including a 1.2-inch longer wheelbase, the roofline and cowl – the base of the windshield – are about an inch lower, dimensions that complement the longer exterior to accentuate the car's lean aesthetic.
"With Cadillac growing globally, driven by rising product credibility, the new CTS elevates the brand to a new level," said Ferguson.
The Cadillac Twin-Turbo is SAE-certified at 420 horsepower (313 kW) and 430 lb.-ft. of torque (583 Nm), making it the most power-dense six-cylinder engine in the segment. A pair of smaller turbochargers helps provide more immediate power on demand, with approximately 90 percent of peak torque available from 2,500rpm to 5,500 rpm. That gives the engine a broad torque curve that customers will feel as strong, willing power in almost all driving conditions – and helps the CTS sedan reach 60 mph in an estimated 4.6 seconds.
The 2014 CTS is also available with a naturally aspirated 3.6L V-6 rated at an estimated 321 horsepower and also matched with the new paddle-shift eight-speed automatic in rear-wheel-drive models (or six-speed automatic with all-wheel drive; and a 2.0L turbocharged engine rated at an estimated 272 horsepower and paired with a six-speed automatic.
Cadillac's new, paddle-shift eight-speed offers efficiency and performance advantages over a six-speed transmission, including 1.5-percent greater fuel economy.
Excellent power-to-weight ratios and racetrack-honed suspension geometries established with the development of the ATS enabled engineers to advance CTS's performance with greater feelings of feedback, control and response. The comparatively low curb weight helps make the most of the driving experience by allowing the use of lighter-weight chassis components, which reduces unsprung weight to enable more precise handling without compromising ride quality.
While stretched in overall length and wheelbase, the all-new CTS sedan has a lower curb weight than the preceding model and weighs about 200 pounds (90 kg) less than the BMW 528i. Lightweight features, including Cadillac's first aluminum door structures, contribute to the lower weight and a nearly 50/50 weight balance. And for the first time on CTS, Magnetic Ride Control, Cadillac's real-time damping system, is available on base models.
---
2014 All-new Cadillac CTS Sedan | Source, get more information about Cadillac CTS.
(Visited 16 times, 1 visits today)