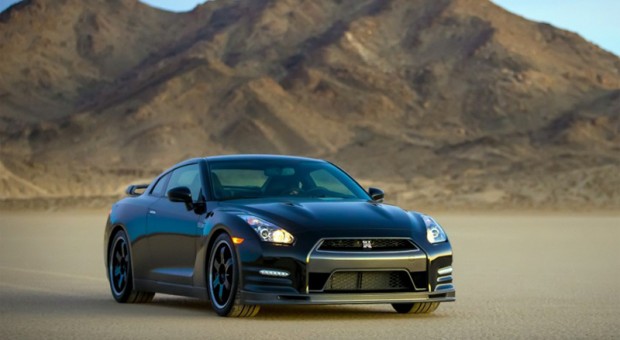 The 2014 model year features the introduction of a third and most exclusive model – the GT-R Track Edition. This new model is designed to take Nissan's legendary 545-horsepower street supercar even closer to a pure motorsports competition machine. It features a specially tuned suspension, special brake cooling guides, front spoiler with carbon fiber air ducts and a lightweight quilted cloth mat where the rear seats usually reside. Production of the GT-R Track Edition is limited to 150 cars for the U.S. market.
Changes to the GT-R's sophisticated 4-wheel independent suspension for the Track Edition include specialized Bilstein DampTronic gas pressure shock absorbers and higher spring rates. Much of the 2014 GT-R's suspension development took place on the Nürburgring, one of the world's most challenging racing circuits, where the Track Edition damping force and handling benchmarks were further refined by GT-R development driver Toshio Suzuki. The Track Edition's air guides for the front and rear brakes were also refined through rigorous track testing.
In the interior, the new GT-R Track Edition includes special blue-trimmed high-grip front seats that use a special leather and fabric appointments. Finishing off the GT-R Track Edition's special features are a handmade, lightweight dry carbon fiber rear spoiler and special metallic black six-spoke RAYS® forged lightweight wheels mounted with Dunlop® SP Sport Maxx GT 600 DSST CTT ultra high performance run-flat nitrogen-filled tires. Both the wheels and spoiler are also offered on the Black Edition. The rear spoiler's lightweight GT-R specific dry carbon fiber material* is also incredibly strong, contributing to increased aerodynamic downforce.
The most grueling of these ongoing track tests was staged in May 2012 with the entry of an essentially stock Nissan GT-R in the Nurburgring 24 Hour sports car endurance race, where it finished first in class and 30th overall. More than just a test of the GT-R's durability and reliability under the most extreme conditions, the around-the-clock race was also a development trial for key GT-R senior engineering staff members that were involved in every stage of the project from vehicle prep to pit stops to post-race teardown and analysis. The experience is expected to have a long-ranging impact on the growth of the GT-R and the core development team.
New fuel injectors are adopted for enhanced torque response in the 4,500 – 6,000 rpm range, improving throttle and acceleration feel at mid- and high-rpm ranges. Also, an oil pan baffle has been added to stabilize oil behavior and oil pressure under high performance driving conditions. The baffle reduces rotational friction, which contributes to the increased responsiveness. As in previous years, each engine is hand-assembled from beginning to end in a special clean room by a single, specially trained technician, a process similar to racing powerplant construction. For 2014, an aluminum plate is added to the front of each engine showing the name of the engine constructor.
The GT-R's advanced VR38DETT 3.8-liter twin turbo V6 engine features innovative plasma-sprayed bores (versus cast iron liners) for reduced friction, lighter weight, enhanced cooling, power output and fuel efficiency; a symmetrical independent intake and exhaust manifold system featuring twin high-performance IHI turbochargers; a secondary air management system for improved cold-start emissions performance; a thermostatically controlled oil-cooling system; an oil scavenger pump to maintain oil flowing to the turbochargers; and a lateral wet and dry sump oiling system. Fuel economy is again rated at 16 mpg City and 23 mpg Highway.
The VR38DETT V6 is backed by an advanced paddle-shifted sequential 6-speed dual clutch transmission, which can be driver selected to shift at race car-like speeds. The sequential-shifting transaxle features separate wet clutches for the odd (1,3,5) and even (2,4,6) gears and pre-selects the next highest and next lowest gear for quick shifts.
It also features Hill Start Assist for easy starts on uphill inclines. High performance differential oil, used in GT-R motorsports competition, is standard.
The Nissan GT-R's unique Premium Midship platform, created expressly for use with the GT-R, enables the use of the world's first independent rear transaxle ATTESA E-TS all-wheel drive system, which optimizes weight distribution and handling capability. The rear drive-biased system can vary torque split from 0:100 to 50:50 depending on speed, lateral acceleration, steering angles, tire slip, road surface and yaw rate. Of note is a special GT-R-specific yaw-rate feedback control, which measures the differences between the target yaw rate calculated from steering angle and actual yaw rate detected by the yaw-rate sensor and G sensor to adjust torque bias.
The Premium Midship Platform layout places the transmission, transfer case and final drive at the rear of the vehicle, without the use of traditional torque tubes, allowing the suspension to operate independently and optimizing tire grip at each corner. Contributing to overall vehicle balance and low center of gravity, the unique offset input and reaction shaft design of the rear transaxle enables a shorter design profile versus a typical manual transmission, moving the concentration of powertrain weight lower in the vehicle.
Chassis development also has continued for 2014, enhancing the sense of "grabbing the road" and enhanced high-speed handling. The front suspension link bush location has been changed and with a new anti-roll bar the front roll-center height has been reduced, along with a change in spring and shock absorber specifications to lower the center of gravity. Maintenance of front suspension alignment has also been improved.
Handling duties are managed by a sophisticated 4-wheel independent suspension system mounted to high-precision six-point front and rear subframes. A special Bilstein® DampTronic driver adjustable shock absorber system utilizes multiple vehicle information systems to provide appropriate damping forces and high level of control for a variety of driving situations.
The DampTronic system features three driver selectable settings – Normal; Comfort, for maximum suspension compliance; or R. The same three-stage adjustability is also available for the VDC system and transmission shift operation.
The 2014 Nissan GT-R is available in three models: GT-R Premium, which comes fully equipped with a 545-horsepower engine, dual clutch rear transmission, Nissan Navigation System, custom-designed 11-speaker Bose® audio system, premium near-black finish wheels and heated front seats; the GT-R Black Edition, with special lightweight metallic black aluminum-alloy forged RAYS® wheels, unique red and black interior, Recaro® leather-appointed seats, dark headliner and dry carbon fiber rear spoiler; and the limited production 2-seat Track Model with unique performance features.
All 2014 GT-R models again include a specially designed, 11-speaker Bose® audio system that features two forward-facing woofers in the rear center armrest area. Rigid aluminum die cast panel mounting of all speakers allowed Bose® engineers to perfect the acoustical performance of the GT-R sound system. Streaming Audio via Bluetooth® is standard.
2014 Nissan GT-R | Source, please read more.
(Visited 33 times, 1 visits today)