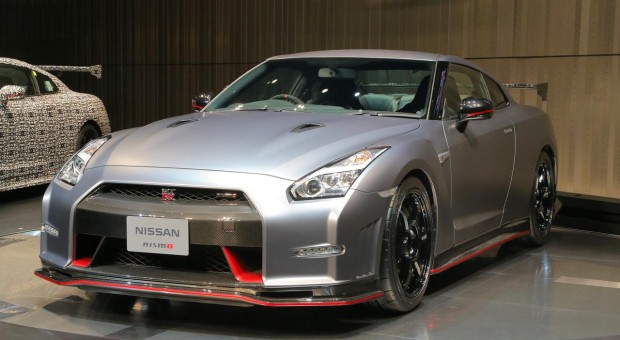 2015 All-new Nissan GT-R Nismo
Nissan Motor Co., Ltd., Japan's second-largest automotive company, is headquartered in Yokohama, Japan, and is part of the Renault-Nissan Alliance. In North America, Nissan's operations include automotive styling, engineering, consumer and corporate financing, sales and marketing, distribution and manufacturing.
Nissan put performance center stage at the 2013 Los Angeles Auto Show with today's North American debut of the most powerful Nissan GT-R supercar ever, the GT-R NISMO.
As the fourth model in the 2015 GT-R lineup, along with the GT-R Premium, Black Edition and Track Edition, the GT-R NISMO features extensive engine, suspension, exterior and interior enhancements. It is scheduled to be available later in 2014, following the January on-sale date of the other 2015 GT-R models.
The GT-R NISMO was one of three performance Nissans revealed today at the Los Angeles Auto Show, which runs from November 22 through December 1, 2013 at the Los Angeles Convention Center. It was joined at a press conference by the world debut of a custom-built Sentra NISMO Concept and the debut of the production version of the new 2014 Nissan JUKE NISMO RS.
The press conference also featured a surprise appearance by Usain Bolt, six-time Olympic Gold Medal winner and 100-meter world record holder. Bolt, who owns a special gold-painted Nissan GT-R, assisted Nissan Divisional Vice President, Sales & Marketing Fred Diaz in revealing the new GT-R NISMO. Bolt serves as Nissan's "Director of Excitement."
The Sentra NISMO Concept follows a long line of Nissan small performance sedans such as the original Sentra SE-R. Created strictly as a design study, the Sentra NISMO Concept features a 240-plus horsepower turbocharged 1.8-liter 4-cylinder engine, NISMO-tuned suspension and steering, custom driver-focused interior, enhanced aerodynamics and large wheels and tires.
Keeping with the NISMO theme, the new Nissan JUKE NISMO RS follows the recent introduction of the JUKE NISMO, with even higher levels of performance and sporty design. Enhancements include additional horsepower and torque – up to 215 horsepower and 210 lb-ft of torque, a new manual transmission, larger brakes, chassis stiffening and unique RS interior treatments featuring Recaro front seats. It is scheduled to join the popular JUKE lineup in early 2014.
NISMO, its vision and name derived from NISsan MOtorsports, has embarked on an aggressive journey to expand its presence beyond the racetrack in key markets around the world. Already a legendary brand among professional and grassroots racers, as well as performance enthusiasts everywhere, NISMO now is applying its near-50 years of engineering experience and expertise to an expanding range of affordable production vehicles.
---
Source, please read more.
(Visited 46 times, 1 visits today)