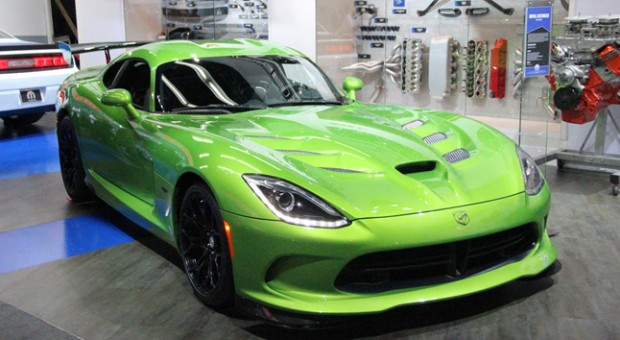 Stryker Green Debuts on 2014 SRT Viper
The newest, high-impact exterior paint color for the SRT Viper is being shown for the first time at the North American International Auto Show in Detroit.
The Chrysler Group's SRT (Street and Racing Technology) brand introduced "Stryker Green," an evolution of the iconic Snakeskin Green exterior color that first appeared in 2008, which features enhanced green and yellow pigments and a "liquid mercury" appearance. The color is the perfect choice for SRT enthusiasts that want to take their SRT Viper to the next level of exclusivity with a vivid and unique color that reflects light to show off the dramatic curves of the Viper.
Also making its debut on the 2014 SRT Viper is the Grand Touring (GT) special package featuring standard Nappa leather seats, five-mode Electronic Stability Control and the two-mode Bilstein® DampTronic Select suspension, both previously only available with the Viper GTS price class.
The GT option package will be limited to the new Stryker Green and Venom Black exterior colors.
Stryker Green exterior color will be available starting in February on the Viper GTS price class, and the SRT price class with the new GT package.
---
Source, please read more now.
(Visited 47 times, 1 visits today)