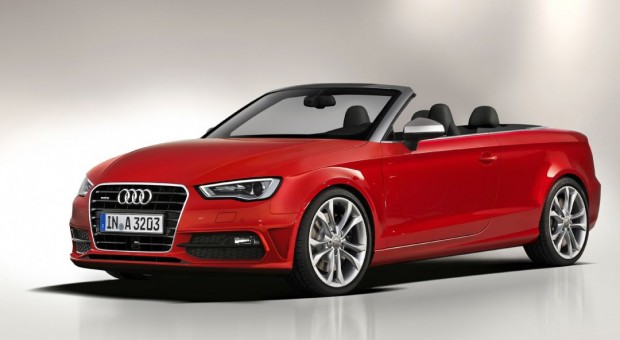 All-new 2014 Audi S3 Cabriolet
Audi presents the S3 Cabriolet. The open-top four-seater is unrivaled in its segment. Its 2.0 TFSI engine develops 221 kW (300 hp) and delivers 380 Nm (280.27 lb-ft) of torque but, with S tronic, consumes just 7.1 liters of fuel per 100 kilometers (33.13 US mpg) on average (165 grams of CO2 per kilometer [265.54 g/mile]).
Of course, the S3 Cabriolet also makes use of quattro permanent all-wheel drive – the perfect foundation for optimal traction and driving dynamics in all road conditions. Absolute lightweight construction and a high-performance chassis complete the profile of the Audi S3 Cabriolet, which is set to arrive in dealerships in Germany this summer.
From a visual standpoint alone, the Audi S3 Cabriolet cuts a sporty figure. It is 4.43 meters (14.53 ft) long, has a wheelbase of 2.60 meters (8.53 ft), and is 1.79 meters (5.87 ft) wide and 1.39 meters (4.56 ft) tall. The proportions are extended and balanced elegantly; precise lines and muscularly arched surfaces define the flanks.
The open-top four-seater has a soft top with an electrohydraulic drive. Magnesium, aluminum and high-strength steel keep its weight low. A highly insulating foam layer in the roof reduces the noise level in the interior. The top is available in three colors. It opens or closes in 18 seconds, even while driving at speeds up to 50 km/h (31.07 mph). An active rollover system protects passengers in the event of an accident.
The Audi S3 Cabriolet is powered by a top-of-the-line 2.0 TFSI, which delivers 221 kW (300 hp) between 5,500 rpm and 6,200 rpm and produces 380 Nm (280.27 lb-ft) of torque from 1,800 to 5,500 rpm. With S tronic the open-top four-seater accelerates to 100 km/h (62.14 mph) in 5.4 seconds.
The top speed of 250 km/h (155.34 mph) is limited electronically. When empty (without the driver), the Audi S3 Cabriolet weighs just 1,620 kilograms (3,571.49 lb). The passenger compartment consists primarily of ultra-high-strength steel, and the hood is made of aluminum.
The turbocharged 2.0 TFSI, which displaces 1,984 cc (bore x stroke 82.5 x 92.8 millimeters), is a true sports engine. Heavy-duty aluminum pistons and higher-strength connecting rods transmit the forces to the crankshaft. The aluminum-silicon alloy used for the cylinder head combines high thermal stability and strength with minimal weight. Two balance shafts ensure supremely smooth running performance.
With its dynamic character, the four-cylinder offers up a fascinating driving experience. When the standard Audi drive select dynamic driving system is operating in dynamic mode, it has a heightened throttle response, and the engine revs up briefly when the S tronic shifts gears. The sound flaps in the exhaust system open as the load and rpms increase.
The driver assistance systems include the standard rest recommendation as well as adaptive cruise control, Audi side assist, Audi active lane assist, camera-based traffic sign recognition, park assist with selective display and the Audi pre sense safety system.
Delivery of the S3 Cabriolet in Germany will commence in summer – for a base price of 48,500 euros.
---
Source Audi, please read more.
(Visited 10 times, 1 visits today)