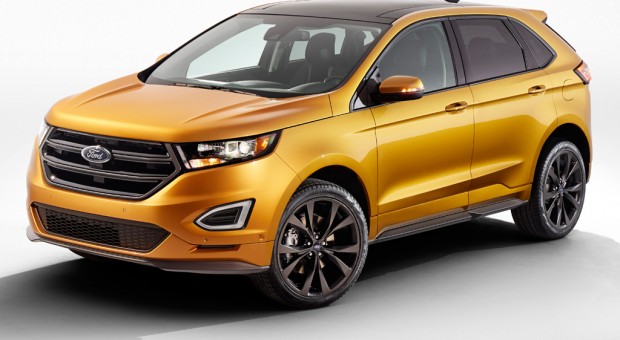 All-New 2015 Ford Edge is here and it's fantastic
2015 Edge will start to be for sale in America early next year as a showcase of Ford innovation – from a new design that excites to technology that comforts, the all-new Edge sets a benchmark for Ford utility vehicles
The all-new Ford Edge demonstrates what happens when a proven leader gets even better. The original crossover utility vehicle from Ford is loaded with more technology, higher levels of craftsmanship and greatly improved vehicle dynamics. The 2015 Ford Edge is a better vehicle by every measure.
When launched in late 2006, Edge helped to define the crossover sport utility vehicle segment in North America, the biggest such market in the world. With a car-based design, Edge delivered better on-road comfort, fuel efficiency and overall driving dynamics than any truck-based SUV. It was proof a utility vehicle could meet the demanding needs of an everyday commuter.
The 2015 Edge revealed today in North America and Europe is all-new from wheels to roof, designed to reset the standard in the two-row utility vehicle market. Based on Ford's successful, global midsize vehicle platform, Edge has been reimagined with a stronger, more athletic shape. It has been retooled to meet higher expectations for quality, and reengineered to add more features and technologies for a more rewarding driving experience. The all-new Edge will be sold in more than 100 markets across the globe.
In North America, Ford was the top-selling utility vehicle brand for a third consecutive year in 2013. Ford utility vehicle sales have been strong elsewhere as well, increasing nearly 20 percent in Europe last year. In China, Ford's share of the utility vehicle segment is growing exponentially, increasing to 4.5 percent in 2013 from less than 1 percent in 2012.
"For three years in a row, Ford has been the best-selling utility vehicle brand in North America and has been experiencing exponential growth in global markets," said Jim Farley, Ford group vice president, Global Marketing, Sales and Service and Lincoln. "The all-new Edge is the next chapter in this story. And it's a story driven by the emotional appeal of the vehicle – not its feature content."
This emotional appeal is enhanced by a wealth of advanced technologies and new amenities. The all-new Edge will go on sale in North America in the first quarter of 2015, with sales following in Europe, South America and Asia Pacific markets.
In North America, the all-new Edge will feature three engine options, two of which are new powerplants – a standard twin-scroll 2.0-liter EcoBoost® four-cylinder and a 2.7-liter EcoBoost V6. A normally aspirated 3.5-liter V6 engine will also be offered. All will be equipped with dual output exhaust and a six-speed automatic transmission.
Edge represents the first Ford vehicle to feature standard EcoBoost power.
The twin-scroll 2.0-liter EcoBoost, offering an estimated 245 horsepower and 270 lb.-ft. of torque, is significantly improved over the previous 2.0-liter EcoBoost. Beyond efficiency advantages, this new engine will also provide more capability. Edge equipped with the 2.0-liter EcoBoost can be specified with newly available all-wheel drive and a towing package capable of hauling a 3,500-pound trailer.
Among a host of changes to the 2.0-liter EcoBoost is a twin-scroll design enabling optimized camshaft timing for improved engine performance and reduced turbo lag. A new, lighter engine block casting along with new aluminum balance shaft assembly shaves six pounds from the engine's gravitational weight. Other changes include lighter pistons; a newly designed, integrated exhaust manifold; and a new, high-pressure direct-injection fuel system for finer fuel atomization. These upgrades pave the way for an increased compression ratio of 9.7:1, up from 9.3:1, for improved overall fuel efficiency.
Ford's Auto Start-Stop system will also be available with the twin-scroll EcoBoost engine on the new Edge. In heavy traffic, this technology can seamlessly shut down the engine to decrease fuel consumption, reducing tailpipe emissions to zero while the vehicle is stationary and the engine is off.
On the other side of the engine spectrum is Edge Sport, with an exclusive, all-new 2.7-liter EcoBoost engine that will provide an exceptional combination of power and efficiency. Setting a new standard in world-class powertrain engineering, this twin-turbocharged V6 is one of the world's most advanced engines. Drawing its design from the best of the efficient Ford EcoBoost lineup, along with the unmatched durability of Ford Super Duty Power Stroke® diesel, this 2.7-liter EcoBoost provides a remarkable combination of advanced materials expertly applied.
The 2.7-liter EcoBoost uses the same compacted graphite iron in its cylinder block as is used in the 6.7-liter Power Stroke. This advanced cylinder block allows for a remarkably stiff and compact design that returns exceptionally refined noise, vibration and harshness control. The compacted graphite iron core is mated with a die-cast aluminum engine-block ladder frame and composite oil pan, saving weight by applying advanced materials where they are needed most.
---
Source: Ford, please read more.
(Visited 38 times, 1 visits today)