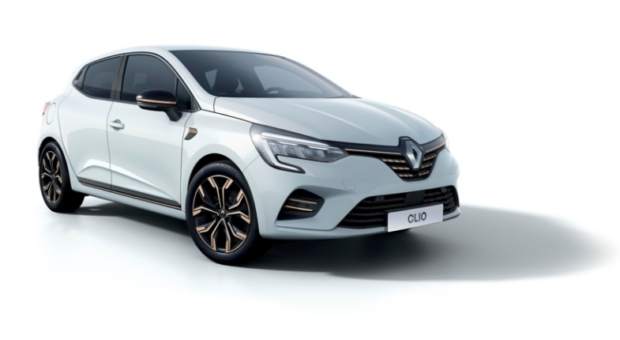 The Lutecia limited series makes its grand entry on the Renault Clio
The Lutecia limited series makes its grand entry on the Renault Clio. It follows on from the Initiale Paris trim and tops off the Clio range that now includes the Zen, Limited, Intens finishes, and two top-of-the-range trims: the sporty R.S. Line and stylish Lutecia.
The Lutecia trim has been designed for customers looking for strong design and the best equipment around. A discerning clientele that seeks quality materials and is environmentally mindful.
The Lutecia limited series exudes a sense of elegance with exterior and interior brass colour customization.
On the outside, brass accents can be seen on the Vivastella 17-inch diamond-cut wheels, lines around the logo and grille, vents, shark-fin antenna, side badge, and wing mirrors.
The interior design is sleek and elegant with a dashboard fully upholstered with 100% bio-based fabric, PET upholstered seats, and a matt brass coloured strip.
In terms of equipment, Renault Clio Lutecia boasts the same features as Intens version though with additional tinted rear windows, self-dimming headlights, front parking radars, and a reversing camera.
The limited series is also recognisable by the 'Lutecia' badges at the shark-fin antenna and side badge.
Orders for Renault Clio Lutecia start at €22,500 with body colours including Noir Etoile, Platinum Gray, Titanium Gray, Quartz White, and Glacier White.
Source: Renault
(Visited 9 times, 1 visits today)