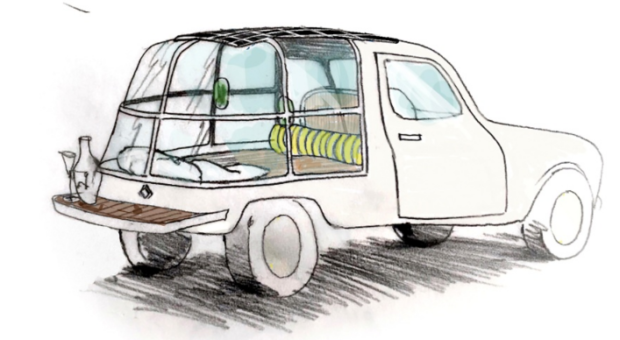 To celebrate the 60th anniversary of the Renault 4, the brand decided to team up with designer Mathieu Lehanneur to reinvent the 4L vehicle
Renault has turned the car's anniversary into a year-long celebration with different initiatives. For instance, the brand launched a global social media campaign, posting a variety of content each month and international media were given the opportunity to take a ride in different historic Renault 4L models, some of which have been retrofitted with a 100% electric engine. Furthermore, a collection of 30 different editions of the Renault 4 has been on display since 8 October 2021 at the Atelier Renault on the Champs-Elysées in Paris.
This year marks the 60th anniversary of the iconic Renault 4L, a car that has become a real success story. Manufactured in 28 countries, more than 8 million units have been sold in over 100 countries over 30 years.
The celebrations look set to continue, as other surprises are in store for the rest of the year. Today we are turning our attention to the new collaboration between Renault and French designer Mathieu Lehanneur, the second last initiative of the programme. Design and innovation in mobility have alwzqys been key values for Renault and the designer Mathieu Lehanneur. Mathieu Lehanneur and Renault's Colour and Trim Design team worked together to come up with the concept car SUITE N°4. A new automotive experience and a Renault à vivre both inside and out.
SUITE N°4 maintains the same exterior dimensions and lines as the iconic model but comes with a radical twist. The rear section and the hatch have been replaced with polycarbonate windows that provide transparency and lighting on a par with that of architectural glass. The transparent solar panels on the roof let light through while helping to charge the battery of the car, which has been retrofitted and now 100% electric.
The front of the car sports the same iconic lights, lines and silhouette as the original. The front grill in polished aluminium is both the designer's signature and an ode to evasion. It creates waves and gives the car a perfmanent effect of fluidity, dynamism and movement. The architectural inspiration can also be found on the body of the car, which is coated with three layers of paint that give it the mineral aspect of cement.
Source: Renault Europe
(Visited 19 times, 1 visits today)