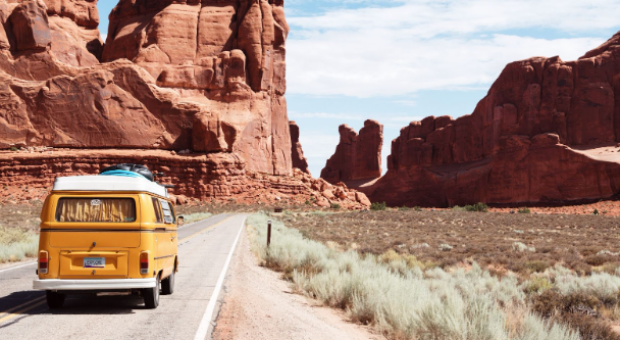 Between the daily commute, family trips, and errands, it's no surprise that many of us want to ditch the car keys and do as little driving as possible when it comes to going on vacation.
It's great to have a rest, but by discounting road trips, you're missing out on one of the best types of vacation you can have, with memories you'll cherish forever. Just look at some of the amazing road trip movies there are. From Easy Rider to the Blues Brothers, who wouldn't want to have that kind of fun?
Spend time with friends and family
Whether you head off with your significant other in a Camper Van Share, or jump in a muscle car with your best friend, the time you spend together is an amazing way to bond. It's not the same as being in a car with someone on a commute. It's not the destination that's the main thing, but the journey.
Freedom to create your own timetable
No rushing to catch flights or make connections. Travelling without time constraints feels amazing. There are no weight restrictions on your luggage and no one is going to confiscate your liquids (unless you're travelling internationally for your road trip). You can decide to bypass a place or stay somewhere for longer depending on your mood.
Go at a pace that suits you and feel the immense feeling of freedom that goes along with this.
Find hidden gems
Whether you're heading down a popular route or moving off the beaten track, you're sure to be able to find some fantastic venues, restaurants, and activities you didn't expect. Some of the best-kept secrets might be waiting on your to discover them.
Meet interesting people
Hotel resorts and tourist hotspots aren't the ideal places to meet real people. A road trip can bring you into contact with all sorts of rich and interesting personalities.
It suits every type of personality
If you thrive on crowds and tourist areas, then you can take a road trip that incorporates these into your itinerary. The same goes for those with more introverted personalities. You can plot a route that takes you to the quieter places that are a little more low-key and not a popular tourist destinations. It's a great feeling to be able to customize a holiday to your personality.
Better for your finances
With the cost of living soaring, saving money on your vacation is a no-brainer. You can choose hotels and Airbnbs that suit your budget as you move around. Plus, you won't have to pay for any pricey flights or resorts.
The opportunity to create the ultimate road trip playlist
An epic car trip needs an epic soundtrack. Before you head off for your adventure, you can spend some time creating the world's best playlist for your journey and spend your time singing at the top of your lungs as you head out onto the road.
Takeaways
Everyone should do a road trip at least once. Chances are it will be one of the most memorable you'll ever have.
Photo by Dino Reichmuth on Unsplash
(Visited 25 times, 1 visits today)