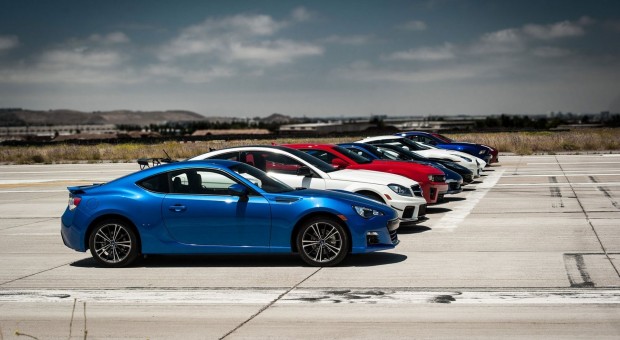 Here are 8 of the fastest street legal cars available in the market (production models, as opposed to concept or modified cars) these are tested, measured and verified top speeds
1. Bugatti Veyron Super Sport: 267 mph (429 km/h), 0-60 in 2.4 secs. Aluminum, Narrow Angle 8 Liter W16 Engine with 1200 hp, base price is $2,400,000. Although the Bugatti Veyron lost the title to SSC Ultimate Aero on March 2007, Bugatti challenged the record in Germany on July 10, 2010 with the new Super Sport and the Bugatti Veyron reclaimed the title of the fastest car in the world at 267 mph. Bugatti again among the leaders for speed! Limited model Veyron Super Sport has set a new speed record for serial supercars. Engine power increased to 1200 horses. Substantially changed aerodynamics car roof, which has resulted in better streamlining the body. For seed customers until released five cars in this series. However, to protect the tires, speed is electronically limited to 415 km/h.
2. Hennessey Venom GT: 260 mph (418 km/h), 0-60 mph in 2.5 seconds, has a 6.2-liter LS9 Turbocharged V8 Twin Turbo V8 Engine producing 1200 hp, with a price tag of $950,000. The basis took Viper SRT-10 and a set of Venom 1000 Twin Turbo Engine Upgrade, eventually emerged the fastest and most powerful modified low-volume car in the world. Huge 8-liter V10 completely redesigned and equipped with dual turbochargers, dual Intercooler and upgraded exhaust.
3. Koenigsegg Agera R: 260 mph (418 km/h), 0-60 mph in 2.9 secs. 5.0-liter V8 Engine with twin turbo's, housing 1099 hp. Base price is $1,600,000. If you're into snow sports, the Agera R can be fitted with a Ski Box as well as winter tires.
4. SSC Ultimate Aero: 257 mph (413 km/h), 0-60 in 2.7 secs. Twin-Turbo V8 Engine with 1183 hp, base price is $654,400. Tested in March 2007 by Guinness World Records, The SSC Ultimate Aero was the fastest car in the world from March 2007 to July 2010.
5. 9ff GT9-R: 257 mph (413 km/h), 0-60 in 2.9 secs. The 4.0 Liter flat-6 Twin-Turbo Engine with 1120 hp, comes with a base price is $695,000. Based on the Porsche 911, the 9ff GT9-R 1120 hp version is limited to 20 units and the exterior may be modified to suit the owner.
6. Koenigsegg CCX: 245 mph (394 km/h), 0-60 in 3.2 secs. 90 Degree V8 Engine 806 hp, base price is $545,568. Made in Sweden, it is the older brother of the Agera R
7. Aston Martin One-77: 220 mph (354 km/h), 0-60 in 3.4 secs. 7.3 litre V12 Engine with 750 hp. Base price: $1,850,000
8. Ferrari Enzo: 217 mph (349 km/h), 0-60 in 3.4 secs. F140 Aluminum V12 Engine with 660 hp, base price is $670,000.
Drive safe !!