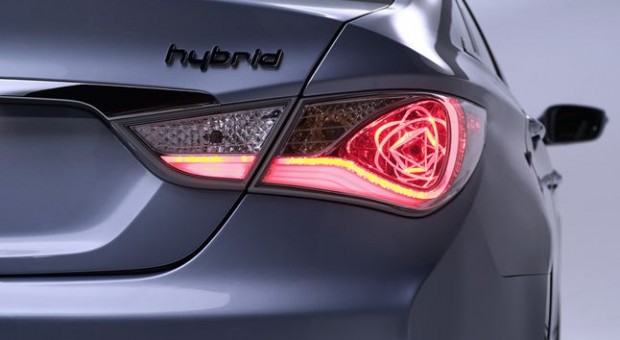 2014 Sonata Hybrid
Hyundai Motor America has announced pricing for the 2014 Sonata Hybrid, starting at $26,000 for the extraordinarily well-equipped Sonata Hybrid and $30,750 for the range-topping Sonata Hybrid Limited. Hyundai Motor America will continue to offer an industry-exclusive Hybrid Lifetime Battery Warranty on the 2014 Sonata Hybrid.
All-new 2014 Sonata Hybrid – prices
Sonata Hybrid – 2.4L Atkinson 4-cyl. Hybrid – 6-Speed A/T $26,000
Sonata Hybrid Limited- 2.4L Atkinson 4-cyl. Hybrid – 6-Speed A/T – $30,750
Freight Charges for the 2014MY Sonata Hybrid are $810 and not included in the prices above.
The 2014 Sonata Hybrid continues to demonstrate Hyundai's commitment to innovation with its advanced Hybrid Blue Drive architecture, which features a powerful 35 kW electric motor, 47 kW Lithium Polymer battery pack and an optimized hybrid operating strategy. The Hybrid Blue Drive system is paired with a 2.4-liter Theta II four-cylinder engine that efficiently runs on an Atkinson cycle and six-speed hybrid automatic transmission to generate 199 combined net horsepower. This advanced powertrain maintains the improved fuel efficiencies of the Sonata Hybrid by increasing the overall amount of available electrical drive power, allowing drivers to go further between fill ups.
As in previous Sonata Hybrids, the 2014 Sonata Hybrid features a clutch to couple the gasoline engine with the drivetrain. When in pure electric drive, the Sonata Hybrid can drive electrically up to 74 miles per hour.
Using a higher output 35 kW electric motor and the more powerful 47 kW Lithium Polymer battery pack introduced for the 2013 model year, the Hybrid Blue Drive powertrain maximizes electric-only driving. The improved operating system takes advantage of newly developed driving pattern detection and engine on/off optimization logic. The availability of additional battery energy helps save fuel by allowing greater flexibility in running the gasoline engine at optimum efficiency. Better kinetic energy recovery and increased charging efficiency allows the Sonata Hybrid in all-electric mode more often and for longer periods of time, increasing fuel economy.
The 2014 Sonata Hybrid utilizes the all-electric mode during optimal moments such as highway driving and saves the gasoline engine start-up for conditions that require a heavier dose of power. All of this translates to money saved for the driver.
The 2014 Sonata Hybrid features a lithium-polymer battery pack, which has been established as the next generation of lithium-ion technology, and is ideally suited to automotive applications thanks to a particularly robust and reliable chemistry.
The lithium-polymer cells, developed with Hyundai's partner LG Chem, use a manganese-spinel chemistry that provides an excellent compromise between power delivery, energy density and thermal stability. Thermal stability is critical to ensuring durability, effectively eliminating the need to replace the battery pack during the normal lifespan of the vehicle.
The electrodes in older lithium-ion chemistries expand and contract significantly with the heating and cooling that naturally occur during charging and discharging. This thermal expansion causes cracks in the electrodes, which ultimately reduces the cell's ability to hold a charge. Manganese-spinel lithium-polymer cells have much lower expansion rates and are thus able to go through tens-of-thousands of charge cycles even without having to use a heavier, liquid-cooling system.
The 2014 Sonata Hybrid's 47 kW lithium polymer battery pack is more energy dense than the nickel-metal hydride batteries used in competitors' hybrid vehicles. At 91 pounds, the lightweight battery helps improve overall vehicle weight and fuel economy. The improved battery pack is key to recovering more kinetic energy from braking and charging from the engine, when needed, to help propel the vehicle. The optimized hybrid system allows more all-electric driving with additional usable energy stored in the battery, cutting both fuel consumption and emissions.
The 2014 Sonata Hybrid's lithium polymer battery stores more energy, yielding a powerful output of 35 kW to the electric traction motor. The higher output electric motor is also essential to improving energy capture during regenerative braking. The regenerative energy is used for electric drive mode before the system has to start the internal combustion engine, sustaining a longer all-electric driving mode for continued fuel efficiency and improved drivability.
The 2014 Sonata Hybrid is available in two different trim levels to choose from – Sonata Hybrid and Sonata Hybrid Limited.
The 2014 Sonata Hybrid MSRP is $26,000, excluding $810 freight and includes the following standard equipment:
* 2.4L Atkinson Cycle 4-cylinder hybrid engine
* Hybrid Starter-Generator (HSG)
* Permanent magnet high-power density motor
* 270V lithium polymer battery
* 6-speed automatic transmission with SHIFTRONIC(r)
* Electronic stability control with traction control system
* ABS with electronic brake-force distribution and brake assist
* Active front head restraints
* Front, front seat side and curtain airbags
* Virtual Engine Sound System (VESS)
* Rearview camera
* 16-inch Eco-spoke alloy wheels
* Headlight LED accents
* LED taillights
* Front fog lights
* Side mirror-mounted turn signal indicators
* Unique, tinted chrome front grille
* Bodyside molding tinted chrome inserts
* Chrome exterior door handles
* Proximity entry with push-button start
* Remote keyless entry, alarm and immobilizer
* Electroluminescent instrument cluster (Supervision)
* 4.2-inch color TFT multi-function trip computer with hybrid technology display
* Dual automatic temperature control
* Heated front seats
* Chrome interior door handles
* Leatherette interior door panel inserts
* Tilt telescopic steering wheel with cruise, audio and phone controls
* Metalgrain appearance interior accents
* Touchscreen color audio
* AM/FM/SiriusXM/CD/MP3 with iPod(r)/USB auxiliary input jacks
* HD Radio(r) Technology with multicasting
* Power windows, locks, heated mirrors
* Integrated Bluetooth(r) with phonebook transfer
* Hyundai Blue Link Telematics system
* Automatic light control
* Solar control glass
* LED interior dome lights
Sonata Hybrid Limited
The 2014 Sonata Hybrid Limited MSRP is $30,750, excluding $810 freight, and includes the following standard equipment:
* 17-inch Eco-spoke alloy wheels with unique finish
* Navigation system with high-resolution 7-inch touchscreen display
* Infinity(r) premium speakers, subwoofer and external amplifier (400-watt)
* Leather seating surfaces
* Leather-wrapped steering wheel shift knob
* Power driver seat with lumbar support
* Auto-dimming mirror/HomeLink(r)/Compass
* Premium door sill plates
* SiriusXM(r) NavTraffic, NavWeather and Sports Stocks w/ 90-Day Trial
---
Source, please read more.