2015 Annual Results: Opel Delivers Best German Sales Figures for Four Years
2015 gave Opel its best sales performance in Germany since 2011 with over 229,000 new passenger cars being registered. Opel's sales increased by around 10,300 units compared to the previous year, which is equivalent to growth of 4.7 percent.
In December alone, the Rüsselsheim-based carmaker recorded registrations of more than 18,800 new vehicles – an increase of 2,400 units or 15 percent.
Compared to the same month of 2014, Opel's market share was up by 0.5 percentage points to 7.6 percent giving the company its best December passenger car market share since 2011.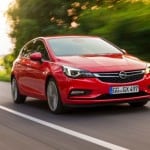 The Opel Astra is one of the main reasons for the improvement. 56,300 units of the compact bestseller changed hands – up 21.6 percent compared to the previous years.
"That is a remarkable success because the new Astra has only been at dealers since October. Our Golden Steering Wheel winner has given the brand an additional push and will continue to be one of our growth engines this year," said Jürgen Keller, Opel's Executive Director Sales, Marketing & Service Germany.
Opel expects the Astra to deliver further growth, especially as the Sports Tourer, a very popular car in Germany, will be at dealers in the spring.
The Mokka compact SUV was also a guarantee for success.
The company sold 31,200 units across Germany in 2015 – an increase of 12.4 percent compared to the previous year. Both the Mokka and the compact Meriva van topped their individual segments in 2015.
(Visited 1 times, 1 visits today)