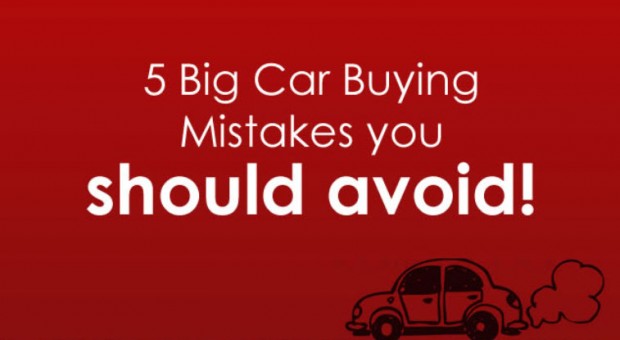 Car-Buying Mistakes to Avoid
Whether you're buying used or new, the car buying process can be a nerve wracking process for the best of us.
The amount of choice of models and variety of different deals can be overwhelming, and the pressure of making a good choice- lest you waste thousands of pounds- can be almost paralysing. A third of all motorists have regretted their car choice at some point, so we have compiled a list of the top mistakes that car buyers make so you can avoid making them too.
Not Doing Your Research
This rings true on several levels. Regardless of whether you're buying a new car or a used one, it pays to do your research. If you're buying new, then do your research into the make and model, what spec and features it has so you know exactly what to expect. Before you go into a dealership, make sure that you know their competitors and have researched the vehicles you're interested in.
If you're buying a used car, then you have a little more work on your hands, but do it right and you could save yourself some money and still come away with a great car. You need to do research into the specific car's history. Make sure that you look at the history and inspection report, as well as looking at the car itself closely too.
Not Negotiating on Price
Negotiating on price rings particularly true if you're buying used, but is equally applicable to new cars too- if you're brave enough. You may feel a sense of dread when you think about haggling on price, but it is an essential part of car-buying. If you don't feel comfortable doing negotiating yourself, then get your mate who used to be a salesman to do it for you.
There are a whole range of car valuing services that mean that you can tell whether you're getting a good deal or not.
Not Knowing How You'll Finance Your New Car
This is one of the biggest and most expensive mistakes that you can make. A car is an expense, so you need to know how you'll pay for the vehicle before you enter into any car-buying negotiations.
If you plan on getting a loan, then you should definitely shop around, as financing options can vary. Negotiate and get the best deal for you.
Not Test Driving Properly
Don't feel self conscious about giving the car a good test drive. Make sure that you drive on a variety of roads, but take particular note when you're driving on similar roads to the ones you'll be driving it on.
Check out how it handles during parking, and make sure you feel happy in the way it drives.
If you're looking to buy new or used cars, then check out S1 Cars Scotland for your bargain car.
Credit photo: