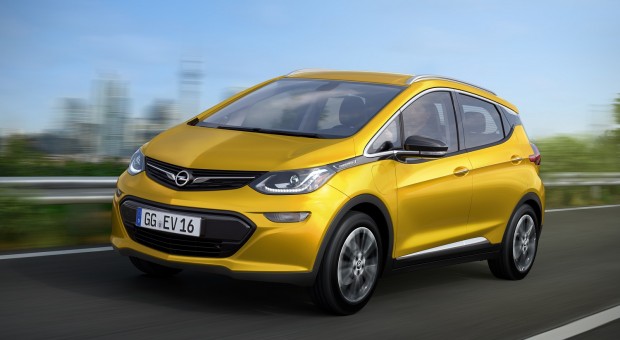 Opel Ampera-e: Authentic #AMPventure Road Trip through Europe
An electrifying road trip through Europe has just begun: the #AMPventure with the Opel Ampera-e. Starting in Oslo, the trip takes the selected bloggers and celebrities across mainland Europe via Paris, Barcelona, Geneva and Munich where they will meet the people and companies shaping a tomorrow of smart mobility and truly sustainable lifestyle. Everything that makes the revolutionary electric car ideal for everyday driving also makes it perfect for a long, exciting and eco-friendly adventure across Europe: an unrivalled driving range of up to 520 kilometers in the New European Driving Cycle, sports car like acceleration, an exceptionally comfortable cabin with plenty of space and the best in digital connectivity – all wrapped in a trendy and stylish look.
Everything about the #AMPventure is real and authentic. Opel's electric range champion is being driven by the members of photography-collective GermanRoamers (Max Fischer, Jannik Heck, Leo Thomas, Daniel Ernst and Max Münch) and video-creators ellevant (Philip Werner). Both GermanRoamers and ellevant create content that animates their audience to explore the unknown and stay curious about our world. The bloggers walk the talk: they are taking turns driving the Ampera-e and will share its real-world range performance and charging time – there is no charging support car or anything else normal drivers would not have at their side. They are taking the e-car to its limits and driving as far as possible on one charge, authentically demonstrating its real benefits in everyday driving.
On May 29, the bloggers started their five-week long #AMPventure that will take them from Oslo to Rüsselsheim over some of Europe's most beautiful and forward-looking cities including Amsterdam, Paris, Bilbao, Cannes and Munich. Along the way, they will give real-time updates on the Ampera-e's performance, while Opel will provide an "electric answers" series of posts addressing common questions on e-mobility and post interviews with local leaders who share Opel's pioneering spirit and are also shaping the future of mobility and sustainability.
During the entire journey, German actors Ken Duken, Karim Guenes, Lucas Reiber and Nadja Uhl and lifestyle blogger Nilam Farooq will share their impressions of the road trip on their own channels. Karim, Lucas and Nilam will also have a first-hand Ampera-e experience as each will spend three days with the team on the road. The #AMPventure will have its own red-carpet experience at the Sophie Opel Prize event during the film festival in Munich before culminating in an interview with Opel CEO Dr. Karl-Thomas Neumann at Opel's home base in Rüsselsheim on June 30.
"With the #AMPventure, we want to demonstrate first-hand how ideal the Ampera-e is for everyday driving," said Tina Müller, Opel Chief Marketing Officer. "Our team of bloggers will share this experience with #AMPventure followers in real time over a range of social media channels including Instagram, Facebook, Twitter and YouTube."
While the #AMPventure will take the team to some of Europe's most pulsating and energetic metropolitan hubs, the actual driving experience will be supremely comfortable and quiet. The Opel Ampera-e redefines electric mobility with its electric range of 520 km (based on NEDC) on a single battery charge. Its lively temperament ensures the bloggers will enjoy traveling to their next destination: maximum torque of 360 Nm, class-leading performance with its 150 kW/204 hp electric motor and sports car like acceleration from 0 to 50 km/h in just 3.2 seconds make the Ampera-e loads of fun to drive.
It will be a breeze for the bloggers to share details of the Ampera-e's performance and post answers to common questions about e-mobility thanks to the e-car's first-class digital connectivity. The personal connectivity and service assistant Opel OnStar is combined with the IntelliLink-e infotainment system that is exclusive to the Ampera-e and compatible with Apple CarPlay and Android Auto. OnStar offers a powerful 4G/LTE Wi-Fi Hotspot[1], ensuring outstanding connectivity for the Ampera-e occupants and their mobile devices. Every day the team will post updates, information or videos, including specifics on the e-car's range performance and charging time, range updates from each destination along their route as well as details and insights on just how easy and carefree everyday driving is with the Ampera-e.
Mobility, sustainability and souvenirs
At each stop, the bloggers will interview a local leader who is actively shaping the future of mobility or sustainability and share these dialogues over vlogs. From smart mobility in Oslo, innovative waste management in Amsterdam, holistic ecological approaches in Toulouse to reducing traffic and air pollution in Barcelona, a wide range of innovative, forward-looking projects will be discussed and shared with the community from each location. And then the Ampera-e will again be on its eco-friendly way to the next destination.
Every week the bloggers will put a souvenir into the Ampera-e trunk. The souvenirs will be shown in a video on the Opel social media channels Facebook and Twitter once a week, and at the end of the road trip, #AMPventure followers should list all the items in the trunk. The lucky winner will be drawn from all the correct answers submitted and can look forward to enjoying a revolutionary driving experience, every day and on long road trips, as the new owner of the original #AMPventure Opel Ampera-e.
(Visited 5 times, 1 visits today)