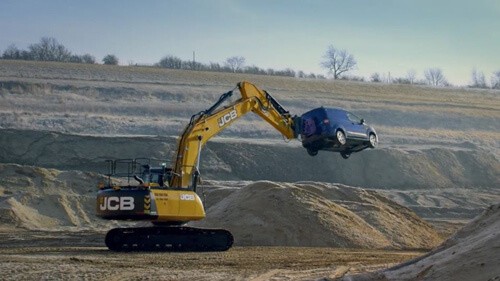 Syncbubble Soundtracks Blue Hive's Terrifying Ford Transit Campaign
Music composition and production company Eclectic have used their music supervision service Syncbubble to soundtrack Blue Hive's latest four-film Ford Transit campaign.
Using the old-school advertising technique of being informative, comedic and musically driven, the campaign (created by Blue Hive) is composed of four films (Testing, Messy Eaters, The Drop & Digger), all of which required very different soundtracks.
Syncbubble enables clients to discover new music and sync it immediately, using an extensive catalogue of published and unsigned compositions curated by Eclectic.
The films, Directed by Kit Lynch-Robinson through Annex Films, put a variety of the Transit's safety features to the test in a series of terrifying stunts.
Using Syncbubble as their sounding-board, the Eclectic team discovered Mike Sammes & the Mike Sammes Singers' Youth: Barefoot On The Rec, which they synched with Messy Eaters.
A further Syncbubble discovery was made when they found and synched the Royal Philharmonic Orchestra's performance of 'Tritsch Tratsch Polka' by Johan Strauss with Digger.
Outside of Syncbubble they flexed their supervision muscles by negotiating deals for 'Who's Sorry Now', performed by Connie Francis, for 'Testing', and Joe Cocker and Jennifer Warnes' performance of 'Up Where We Belong', which accompanies 'The Drop'
Blue Hive Creative, Peter Hvid comments: "Eclectic are my go-to for music supervision and composition. They worked extremely hard on Transit to find appropriate tracks for each of our films – what I particularly like is that their music choices are varied and reach across all genres, giving me the opportunity to explore styles of music that I perhaps wouldn't have considered. The end result is finding tracks that don't feel predictable and add humour to the films."
Romila Sanassy, Agency Producer at Blue Hive, adds: "As a Producer, finding a music company who you can always rely on to solve the music challenge on your productions is always a relief. I have worked with Eclectic since they were formed and genuinely when I think we will never find a track that everyone will agree on, Eclectic save the day. Not only do they work creatively but always work within my budget – typical Producer! The Transit job is a great example of the work they do."