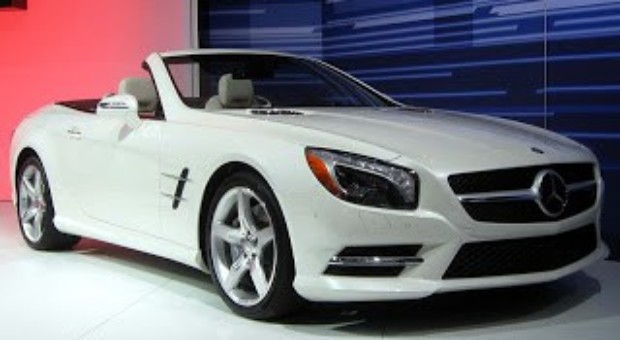 Remarkable 2012 Mercedes SL Ad
In December 2011 Mercedes-Benz announced the all new SL-Class and was formally launched at the North American International Auto Show in January 2012.
The new SL (R231) has been produced for the first time almost entirely from aluminium.
The new aluminium bodyshell weighs around 110 kilograms less than it would using the steel technology from the predecessor.
Although the Mercedes-Benz SL-Class has more assistance systems on-board than its predecessor and therefore does actually sacrifice some of the weight saved through the aluminium bodyshell, the scales show some better figures: the SL 500 (1.785 kg) weighs around 125 kilograms less and the SL 350 (1.685 kg) is 140 kilograms lighter than its predecessor.
New features include the unique FrontBass system (it intelligently uses the free spaces in the aluminium structures in front of the footwell as resonance spaces for the bass loudspeakers) and adaptive windscreen wipe/wash system MAGIC VISION CONTROL, which supplies water from the wiper blade as required and depending on the direction of wipe.
The R231 is also available with two different suspension systems: semi-active adjustable damping as standard. The optional active suspension system ABC (Active Body Control) is available as an alternative.
Both suspension variants are combined with a new electromechanical Direct-Steer system featuring speed-sensitive power steering and a ratio that can be varied across the steering wheel angle and it also reduces the amount of steering required when parking and manoeuvring.
Compared with its predecessor, the new generation of the SL is much longer and wider.
Shoulder room (+37 mm) and elbow room (+28 mm) have been increased too.
Now, please welcome an remarkable Mercedes SL Ad presented in Spain.
(Visited 1 times, 1 visits today)