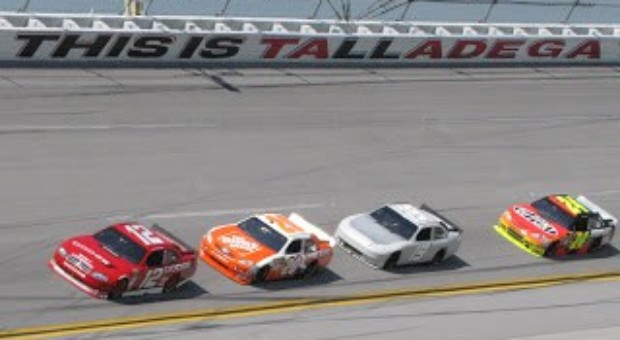 Dodge Back in Victory Lane at Talladega – Keselowski Takes Dodge to Victory Lane at Talladega
Brad Keselowski picked up his second win of the season Sunday, scoring a victory at one of the toughest venues on the Sprint Cup Series schedule – Talladega Superspeedway.
It's the second time Keselowski has won at the 2.66-mile track; he collected his first career victory in 2009 before joining Penske Racing and Team Dodge.
— BRAD KESELOWSKI DRIVES NO. 2 DODGE TO WIN AT TALLADEGA —
Although the race had a couple "big ones" as expected with the close competition, Keselowski kept the No. 2 Miller Lite Dodge clean throughout the race which was extended beyond the scheduled 188-lap distance for a green-white-checkered finish after a nine-car mishap with just two laps remaining.
For the restart, the "Blue Deuce" lined up beside leader Matt Kenseth who had held the point a race-high 73 laps. Providing the push for the No. 2 was Kyle Busch.
Keselowski had a plan, something he had thought about trying if he were ever in such a position at Talladega. Traditionally, the car running second on the final lap has had the advantage. Not this time, not with the Keselowski Talladega Plan.
"I had this whole plan if I ever got in that situation," he said. "I knew the move I wanted to pull. It worked because the guy running second (Busch) should have the advantage, but I had this move all worked out in my mind. I went into Turn 3 high and pulled down off of Kyle; that broke the tandem up.
That allowed me to get away from him and drive untouched to the checkered flag. It wasn't easy to convince myself to do that, but it was the right move. I'm glad it worked."
Crew chief Paul Wolfe says it was a case of playing it smart throughout the race. "The win, it's definitely exciting for everyone on this Miller Lite Dodge team," said Wolfe. "We typically haven't had a lot of luck here at these plate races, but we played a smart race all day. Brad did a great job. He knew what he needed to do there at the end and he was able to do it. It was a great team effort."
The win moves Keselowski to 12th in the point standings, but more important, he's one of only three drivers with two wins this season. The other two are Tony Stewart and Denny Hamlin. It puts the driver of the No. 2 Dodge in a strong position for one of the two Wild Card berths in the Chase if he's not in the top 10 after the first 26 races that set the Chase field.
Race Results – NASCAR Sprint Cup Series Aaron's 499 Talladega Superspeedway
May 6, 2012
1. BRAD KESELOWSKI
2. Kyle Busch
3. Matt Kenseth
4. Kasey Kahne
5. Greg Biffle
6. Clint Bowyer
7. David Ragan
8. Trevor Bayne
9. Dale Earnhardt Jr.
10. Jeff Burton
15. A.J. ALLMENDINGER
NASCAR Sprint Cup Series
Point Standings
(After 10 of 36 races)
1. Greg Biffle 378
2. Matt Kenseth -7
3. Dale Earnhardt Jr. -9
4. Denny Hamlin -27
5. Kevin Harvick -45
6. Martin Truex Jr. -46
7. Tony Stewart -50
8. Jimmie Johnson -54
9. Kyle Busch -70
10. Clint Bowyer -76
11. Carl Edwards -78
12. BRAD KESELOWSKI -79
20. A.J. ALLMENDINGER -136
It was the first Sprint Cup win for Penske Racing at Talladega. "We've been coming here since 1972, so it's a long time to get a race win," said team owner Roger Penske. "It was certainly special. Overall the car ran well.
The Dodge engine showed its power as Brad came off of (turn) four there, which amazed me. Our fuel economy was good. We didn't run out of fuel and stayed out of trouble. You never know what's going to happen with a green-white-checkered finish at Daytona or Talladega. We were very fortunate and Brad did a terrific job."
Teammate A.J. Allmendinger was equally impressive and was running sixth when he was involved in the nine-car mishap that brought out the fifth caution and extended the race.
He ran as high as second and raced in tandem with Keselowski on several occasions.
(Visited 18 times, 1 visits today)