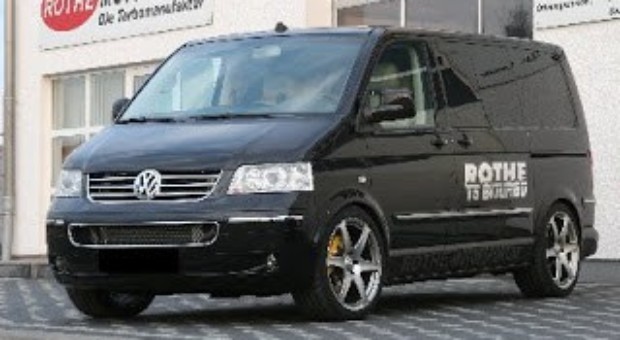 Speedy Family Vans
Having a large family or a huge amount of sports gear no longer has to mean driving bulky cars, slowly.
I does not necesserily mean driving an SUV, either. There may be some exciting and affordable 4x4s out there, however SUVs are by far not the only ones who boast driving comfort through all wheel drive.
Here are some suggestions – these two tuned versions of the Volkswagen T5 van do room as well as speed – and a lot of it.
The Volkswagen T5 is the manufacturer's fifth generation of the medium-sized, light commercial vehicle, boasting four-wheel drive and a high maximum load. The T5's shuttle version seats seven to nine people, and, generally, looks like any ordinary van.
However: Two German tuning teams have taken it upon themselves to turn the T5 into something any 'man with a van' would dream of.
The Sportec T5 R version of this trusty classic has upped both performance and appearance to something rather more impressive.
The 2.0 litre TSI engine in Sportec's tuned T5 is the same as that which powers the Volkswagen GTI, the Skoda RS, and the Seat Cupra. The T5's performance has been upped from 147 bhp to 295 bhp (128 kW), with a maximum torque of 470 Nm (at 2000 RPM). Thanks to the seven-speed manual gear system, Sportec's T5 R accelerates from 0 to mph in approximately 8.9 seconds.
That is a lot of speed for just some van.
Maximum load for the Sportec T5 is 583 kg – which means all the luggage and sports gear in the world can be taken along on holiday.
Currently available only in red, Sportec's T5 version also boasts sportkat, a racing-design exhaust (producing the appropriate sound for this van!), and sports-design tyres.
Rothe's T5 version on the other hand doesn't bother with changing the T5's looks, and is simply all about speed. Driver and passengers are seated 30 mm closer to the road, which gives this van improved sticking power around tight corners; the four wheel drive guarantees excellent control.
The K04 turbo engine manages an impressive 301 bhp (225kW), and accelerates from 0 to 62 mph in 7.1 seconds. Rothe's T5 comes with wither a manual or automatic gear system.
Maximum load for the Rothe T5 is 629 kg.
Both tuning packages are surprisingly affordable, starting at around £800 on top of the price of the basic T5, available new from around £16,000. When looking to buy new cars appropriate to large families doing off road holidays, it may therefore be well worth looking further than, well, cars.
(Visited 12 times, 1 visits today)