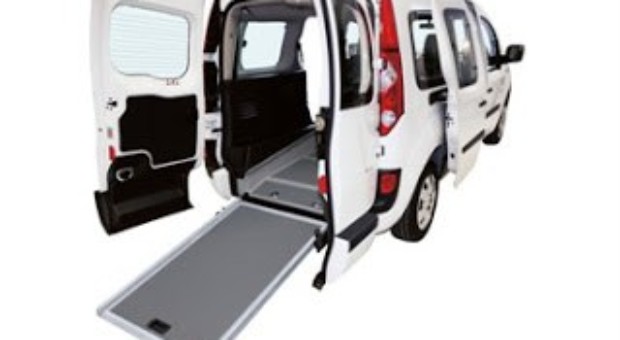 Renault Tech to reveal Grand Kangoo and Dokker TPMR at 'Autonomic Méditerranée' show
Renault Tech is a division of Renault Sport Technologies and has been designing, manufacturing and marketing vehicles for the transport of persons with reduced mobility for more than 25 years.
It will take advantage of its presence at the Autonomic Méditerranée show (December 6-7) in Marseilles, France, to reveal two additions to its existing range of vehicles, namely Grand Kangoo TPMR and Dokker TPMR (TPMR = 'Transport de Personnes à Mobilité Réduite' / 'Transport of Persons with Reduced Mobility').
Grand Kangoo Ergo ramp®: extra passenger carrying capacity
• Renault will have a stand (Hall 1, Gate C) at the Autonomic Méditerranée show in Marseilles, France, on December 6-7.

• This exhibition will provide Renault Tech with an opportunity to give two new vehicles their first public airing, namely Renault Grand Kangoo TPMR (Ergo ramp®) and Dacia Dokker TPMR.

• In addition to its range of transfer assist and driving aid solutions, these two new models take the European leader's range to five vehicles which represent total annual sales of 1,000 vehicles, all of which are made in Heudebouville, France.
This new conversion is based on Grand Kangoo, the lengthened version of Renault's celebrated 'ludospace' which was introduced last September. This vehicle chiefly targets professional road-users such as taxi-drivers, airport shuttle companies and public transport operators, etc. and comfortably carries up to six people (five seated, plus one passenger in a wheelchair).
Grand Kangoo TPMR, known as Ergo ramp®, will go on sale when the Autonomic Méditerranée show opens, initially in France, and then in numerous European countries (prices will be announced at the show). Just one version will be available, but it will be possible to choose from a long list of options to adapt the vehicle to individual requirements.
This conversion is particularly innovative and a patent has been filed for the mechanism of its access ramp which is extremely simple and effortless to operate. Furthermore, when fully retracted, it provides an entirely flat floor so that users can continue to benefit from Grand Kangoo's hallmark modularity.
Dokker TPMR – a true Dacia: straightforward and robust
In keeping with its Dacia heritage, Dokker TPMR is both straightforward and robust. This conversion targets persons with reduced mobility who use a wheelchair. Three versions are available and permit the transport of up to five fully-abled passengers and one person in a wheelchair.
Depending on version, a choice of two or three equipment levels is available, as well as numerous options to allow customers to match the specification of their vehicle to their particular needs.
Renault Tech committed a significant research and development budget to the design of this conversion. For example:
– The lowered floor is made from a composite material which not only saves weight but is also more durable and uses fewer component parts.

– The ramp's aluminium honeycomb structure saves further weight yet supports a load of up to 300kg (one person with reduced mobility plus accompanying person).

Dokker TPMR will be available in France, Europe, Turkey and Morocco from end-March 2013. Prices will be published closer to this time.
Source: Renault
(Visited 47 times, 1 visits today)