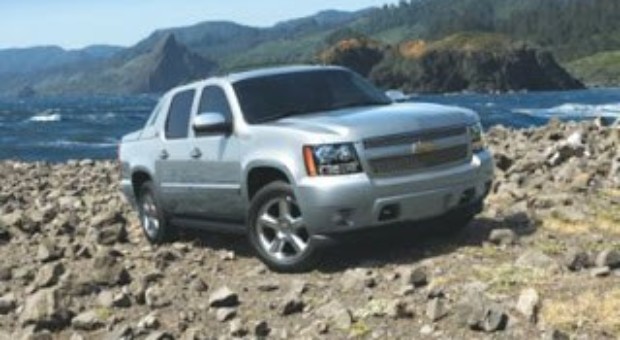 Chevrolet Avalanche
Chevrolet Avalanche to End its Trendsetting Run
The Chevrolet Avalanche, which won buyers with trendsetting design and unique features – and helped launch the boom in crew cab pickups – celebrates its final year in production with the 2013 Black Diamond Avalanche.
Black Diamond Avalanches will feature body-colored bed surrounds, a unique badge on the sail panel, additional features on LS and LT models, and lower prices across the lineup.
"More than 580,000 Avalanches have been sold since its introduction in 2001, and Avalanche has won major awards and recognitions throughout its run," said Mark Clawson, Avalanche marketing manager. "So it is only fitting that Avalanche retires on a high note."
"The Chevrolet Avalanche was one of the earliest forays into re-inventing the traditional pickup truck, said Michelle Krebs, senior analyst, Edmunds.com. "It was a vehicle that maintained the traditional truck image and capability but was more versatile for the person buying it for personal use more than work – a lifestyle truck more than a work truck. Other variations on the theme from competitors followed the Avalanche##Q##s debut."
For 2013, a rear camera, rear park assist, power adjustable pedals, fog lamps and remote start will be added as standard equipment on LS models, while LT models have added a standard rear camera. Base prices have been reduced $2,500 (after equipment adjustments) with the 2WD Avalanche LS now starting at $ 35,980, plus $995 dealer freight charge.
"Although Avalanche sales have tapered off in recent years, as crew cabs have grown to dominate Silverado sales, we know there are many Avalanche enthusiasts among Chevy customers," said Clawson. "The Black Diamond Avalanche is our way of saying 'Thank you' and making it just a little more attractive to own one more Avalanche."
Avalanche reshaped the pickup market
When introduced for the 2002 model year, Avalanche offered unique styling and innovative features like a midgate that extended the bed into the cab. Perhaps more important, its overall design proved to be one of those rare ideas that change a segment – a light-duty pickup with comfortable accommodations for five people.
This concept of a well-equipped light-duty pickup that could tow, haul, and carry the family attracted enough interest to generate 93,482 sales in 2003, its third full year of production. Recognizing the appeal of the Avalanche, Chevrolet and other truck makers began developing light-duty crew cab pickups. By 2011, crew cabs accounted for more than 65 percent of light-duty pickup sales, and helped transform the pickup from a workhorse into a true multipurpose family vehicle.
Through it all, Avalanche retained a core of passionate fans who loved its style, comfort, and versatility. Avalanche was named 2002 Motor Trend Truck of the Year upon its introduction, and 2007 Truck of the Year by the Automotive Journalists Association of Canada. Avalanche also has been top choice in a number of consumer publications.
Avalanche at a glance
The Chevrolet Avalanche is one of the industry's more-flexible utility vehicles, combining the passenger-comfort attributes of a SUV with the cargo capability of a truck, thanks to the exclusive Midgate. It opens to extend the cargo-area from 5-foot-3-inch-long (1.6 m) length to 8 feet 2 inches (2.5 m). It is available in LS, LT and LTZ models, with 2WD and 4WD.
Storage compartments alongside the cargo box provide ample and lockable storage with pluggable drains that can be filled with ice and used as coolers.
The Avalanche is based on GM's full-size SUV platform, offering a maximum towing capacity of 8,100 pounds (3,674 kg). It is powered by an efficient combination that includes the Vortec 5.3L V-8 with cylinder-deactivating Active Fuel Management technology and a fuel-saving Hydra-Matic 6L80 six-speed automatic.
Avalanche also delivers useful technology and comprehensive safety features, including Bluetooth wireless phone connectivity with specific steering wheel controls, standard rear camera system, head curtain side-impact air bags and StabiliTrak electronic stability control. Avalanche offers an integrated brake controller that works with the ABS system to provide immediate and measured brake force signaling to electric-controlled trailer brake systems; there is no requirement for external and/or aftermarket brake control systems.
Source: GM
(Visited 3 times, 1 visits today)