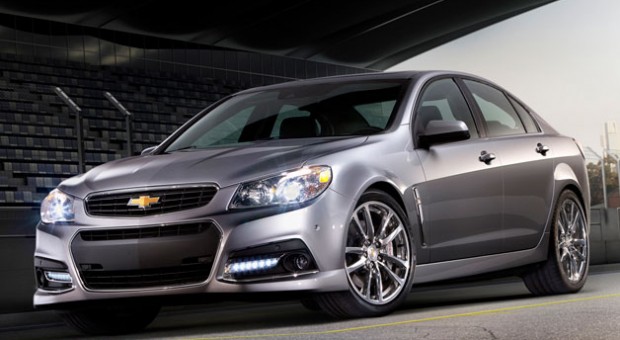 All-new 2014 Chevrolet SS Sedan Heritage
As Chevrolet's first V-8, rear-wheel-drive performance sedan since 1996, the new Chevrolet SS is designed to deliver performance on the street and on the track. It joins the all-new 2014 Corvette Stingray and revamped 2014 Camaro to broaden America's favorite performance brand.
The new SS benefits from the proven, race-tested, global rear-wheel drive architecture that is the foundation for the Camaro, Caprice Police Patrol Vehicle and Holden's VF Commodore.
It is powered by the LS3 Chevrolet V-8, delivering an SAE-certified 415 horsepower (310 kW) and 415 lb.-ft. of torque (563 Nm), and is matched with a six-speed automatic transmission that can be shifted manually using TAPshift paddles mounted on the steering wheel.
The spacious interior of the SS will comfortably accommodate five adults, with 42.3 inches of front legroom (1,074 mm) and 39.7 inches (1,008 mm) of rear legroom. Leather seating surfaces are standard, as are eight-way power adjustable front bucket seats with additional side bolstering that hug the driver and front passenger in tight-handling situations.
The SS emblem is prominently stitched onto the soft-touch instrument panel which features two types of chrome finishes – a satin gloss and bright chrome. At night, the interior is illuminated by ice-blue ambient lighting.
The 6.2L LS3 small-block V-8 is the power behind the SS's driving experience. It is SAE-certified at 415 horsepower (310 kW) and 415 lb.-ft. of torque (563 Nm) and paired with the Hydra-Matic 6L80 six-speed automatic with paddle-shift control. The engine's torque is channeled to the rear axle, which has a 3.27 ratio for a great feeling of performance. Engine oil and transmission coolers are standard.
A sport-tuned suspension complements the powertrain with handling prowess and driving refinement. The front suspension is a MacPherson-strut-based multi-link system with a direct-acting stabilizer bar. It features a forward-mounted steering rack and dual lower links with individual ball joints at the outer ends. A hydraulically damped bushing is used on the forward end of the tension link for improved ride isolation
The all-new 2014 SS offers a comprehensive collection of standard safety features. It employs advanced technologies – including radar – to help avoid crashes. Visual and audible alerts, depending on the alert feature, help drivers identify potential crash situations. They are designed to identify potential threats with sufficient warning to give the driver time to react and make changes.
Source Chevrolet, please read more.
(Visited 5 times, 1 visits today)